In the Wine Country
Every weekday about a quarter past five throughout the Napa Valley local bars start to fill up with thirsty vineyard workers who order…beer.
While it may seem strange that beer be flowing freely in Napa, the truth is that beer has serious roots in the area, starting with San Francisco's Anchor Steam in the 70's, Sonoma's New Albion in 1976, and the Sacramento delta region before that in the early 19th century.
Today, beer is all about choices.  Microbreweries have embraced small-scale production of seasonally -themed products that reflect the local flavor of the area produced in, resulting in differing styles to please any palate.
For Wine Country brewers, the farm to table ethos that's part of the local culture factors heavily into their approach, and indeed may be the reason for the region's unparalleled success.  This way of preferring quality over quantity has underscored the history of beer in the region since the outset, and indeed was the impetus for the movement, as it sought to create its own distinct way of micro-brewing.
Although Vinnie Cilurzo of Russian River Brewing Company was born in the wine country of Temecula,Ca., he's always had the beer bug, teaching himself to homebrew when he was 18 in the basement of his parents Cilurzo Family Vineyards.
A couple years after he began that first batch in the winery basement he met his future wife and business partner, Natalie and they've been together since.  The success of the business relied on what the other brought to the table, and based on the numerous awards they consistently garner, they seemed to have found a perfect marriage in every sense of the word.
Although Vinnie's known for his consistently impressive beers, it's his homage to the first century, scholar, writer, naturalist and historian Pliny the Elder in the form of a double I.P.A. that's put him and tiny Russian River Brewing Company at the forefront of America's craft beer renaissance.
Upping the ante, Russian River released the now infamous Pliny the Younger, named after the aforementioned Pliny's nephew and biographer of the same name.
A triple I.P.A., the Younger has nearly triple the amount of hops as regular I.P.A. and is rather difficult to make. It's full bodied and complex, yet delicately smooth.  Its limited-amount release each year creates a ruckus at the brewery, as a crowd has taken to gathering outside like waiting to get tickets to a sell-out concert.
This year 15,000 people were served the Younger in the one-week period it was offered at the Brewery, some waiting 12 hours in a rare storm to do so. The beer's reputation grows yearly, and yet the Cilurzo's and Russian River seem to take it in stride, keeping their noses to the grindstone and continuing to innovate in what's become a uniquely Californian way.
One innovation that rapidly is becoming a trademark move for Cilurzo is his use of wine barrels for aging beer.  It's not a random process, but one that's been fleshed out over the years, using specific used wine barrels with specific beers. In his Temptation, he uses Chardonnay, in the Supplication Pinot Noir, and in the Consecration, used Cabernet Sauvignon Barrels.
These beers can be chemically dynamic and unstable to work with, so they require a great deal of attention, yet the resulting product is incomparable.  Like wine, they're made for the cellar and Cilurzo believes they can easily age up to five years.
Meanwhile…back in the Valley…
Oftentimes, I find that at the end of a long day wine tasting, (p.s., to try and do more than three in-depth tastings a day is insanity), there's nothing better than a cold beer.
The crispness and bubbles seem to reinvigorate my palate and are often the perfect beginning to a meal.
Downtown Napa has plenty of options, and Downtown Joe's  has stood the test of time, with the brewery being established in 1988 by Chuck Ankeny, great grandson to Adolph Hamms of Milwaukee.  It was officially christened Downtown Joe's in 1993. Ale is the name of the game here, with seasonal options constantly available. Ask your bartender what's new. You won't be disappointed.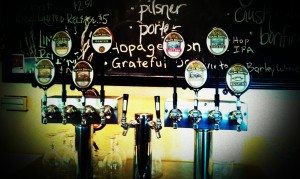 Out and away from the hustle and bustle of downtown, at the gateway to Napa where infamous Hwy. 29 meets Hwy. 12 from the East, Napa Smith Brewery is producing award-winning beers from craft-brewing legend, Don Barkley.
Don began in 1978 at the hallowed New Albion Brewing Company as Master Brewer and his pedigree shows in these organically produced marvels. He manages to produce a variety of beers, and is at home creating a hoppy I.P.A., or Ginger Wheat that will make sushi a special treat, or add an exotic flair to fish tacos.
These are just a few of the options available on your visit to Napa.  If you somehow manage to get through this list during your stay and want more suggestions, don't hesitate to ask Scott or Sam at the Candlelight. They won't steer you wrong.
By Joseph Mora C.W.P.
Candlelight Inn
1045 Easum Drive
Napa, California 94558
Reservations: (800) 624-0395
Local: (707) 257-3717
mail@candlelightinn.com