Napa Valley is a world-class destination, known primarily for its abundant vineyards and wineries, spectacular cuisine, romantic atmosphere, and the scenic surroundings along the beautiful Napa River. Enjoying a romantic wine tour through Napa Valley, or sampling regional wines at local tasting rooms, are the two most quintessential Napa Valley experiences that have been enjoyed by couples for decades. Whether you're a wine officianado looking for a more intimate winery experience, or a newcomer to this romantic haven, Napa Valley has what you are looking for.  Book your room at the romantic Candlelight Inn Bed and Breakfast today, and experience the extraordinary world of Napa Valley wine tours.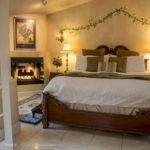 Wine Tours & Tastings in Napa Valley
When you visit Napa Valley, you'll discover more than 400 world-class wineries, the most of any other region in North America.  For a firsthand glimpse into Napa's wine country, take one of the many wine tours through this beautiful countryside.  If you're new to the Napa wine experience, then you can't go wrong by visiting the bigger name wineries.  Start your wine tour heading north to the Robert Mondavi Winery, followed by Beringer Vineyards, and finally Sterling Vineyards, located even farther north near Calistoga.  Along the way, you'll pass through three distinct AVA's, allowing you to sample the distinctive range of Napa Valley Wines.  If you'd rather skip the extended wine tour and stay close to town for the day, then head to the unique collection of tasting rooms in downtown Napa.  You'll find wonderful places like Vintner's Collective, which focuses on the smallest one percent of Napa's best and most sought after wines, John Anthony's fine wine shop and tasting bar, or the small-production, artisan wines found at Back Room Wines.
If you've been to Napa before, or as a first-time visitor are looking for a more in-depth or intimate experience, then these wine tours are for you.  If you want a behind the scenes look at winemaking, then we suggest you spend a day at the Raymond Vineyard and Cellar, where you can become winemaker for the day. During this spectacular 90 minute wine tour, you'll work with experienced winemakers to blend your own bottle of red wine, which you get to take home at the end of the day. Red Wine lover's should head to the Stags Leap District's Chimney Rock Winery, where you can explore one of the most treasured blocks of estate Cabernet Sauvignon on their Ganymede tour.  Experience one of Napa Valley's most beautiful wine tasting rooms on HALL Rutherford's Appelation Exploration wine tour.  Or spend a day enjoying the bounty of Napa Valley, when you combine a food and wine pairing tour at either Signorello Estate or the Long Meadow Ranch Winery.
No matter how you choose to spend your time in Napa, one thing is for sure:  You will enjoy a spectacular array of world-class food and wine, along with an endless supply of romance.  Book your room at our luxurious Napa Valley Bed and Breakfast today, and experience the allure of Napa for yourself.