People have long come to Napa Valley for the exquisite food and wine, as well as the romantic ambiance of this scenic vineyard-rich valley.  While the wine and the whole Napa Valley experience is still certainly worth coming and staying for, an increasing number of visitors are coming for the exquisite arts culture that is popping up around the valley. Napa Valley art has grown in popularity, featuring a wonderful range of festivals and events, in addition to spectacular art galleries, studios, and museums. With the inspiring scenery found around every bend in the road, it's no surprise how embeded the arts have become in the culture of Napa Valley.  Now is the perfect time to book your room at our romantic Bed and Breakfast, as Napa Valley gears up to celebrate the Arts in April.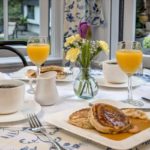 Blending Fine Napa Valley Art With Wine
While art and wine individually are fantastic components of Napa Valley, combining the two into a single experience is perhaps the best of both worlds. Many of the finest regional wineries offer guests a glimpse into the wonderful world of Napa Valley art, in addition to offering a taste of the region's prized wines.  For example, head to Artesa, where you'll find Artist in Residence Gordon Huether, who has been exhibiting his work at Artesa since 1992.  A little further down the road at the historic Hess Collection Winery, you'll be treated to Donald Hess' extensive private contemporary Art Museum collection.  Then end your day at the popular Robert Mondavi Winery, which features a permanent art collection, in addition to rotating exhibits celebrating local and emerging artists in photography, sculpture, painting, and other visual arts.
Traveling around from tasting to tasting at local wineries is not the only fun and interesting thing to do while in Napa Valley, especially for art lovers. Enjoy both inspiring art and Napa Valley's picturesque landscape at di Rosa.  Di Rosa, located in Napa Valley's famous Carneros appellation, is a beautiful 217 acre nature preserve that houses three expansive art galleries and a stone house winery. The beautiful Napa Valley art on display here features over 2,000 works by more than 900 Northern California artists, including Robert Arneson, Robert Bechtle and Nathan Oliveira.  Other must-see art galleries and museums are CA'TOGA, Gordon Huether's Hay Barn Gallery, The Gordon Gallery, the Napa Valley Museum, and the Silverado Museum.  Exciting Napa Valley Arts events in April include the Engage Art Fair, the 23rd Annual Arts Extravaganza, the Art and Architecture Tour at Verve, and so much more.  For art lovers new and old, Napa Valley is the place to be this April. Book your room now at our romantic Bed and Breakfast.