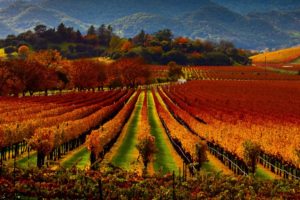 As we mentioned in our previous post, Napa Valley is right in the middle of another fantastic fall harvest season, which runs from August through October.  The harvest months are unique in their offerings, from do it yourself grape stomping, wine blending and exquisite tastings, to a wide variety of themed fall activities.  Though we could easily demonstrate beauty in Napa Valley throughout the entire year, there is definitely something magical about being in Napa Valley during the fall harvest months, and we can't wait to share this bountiful season with you.  Book your room at our luxurious Napa Valley Bed and Breakfast today.
Napa's Fall Activities
One of the most beautiful sights in all of Napa Valley are the vibrant reds, oranges, and golden yellows that paint the hillsides each fall.  A visit to Napa is about savoring the tremendous variety of food, wine, and scenic beauty of wine country, not speed-drinking your way from one winery to the next.  One of our favorite fall activities involves driving along the beautiful valley and taking in the exquisite sights and sounds of wine country.  We recommend starting in Napa in the morning and heading north along highway 29 to Calistoga, stopping for lunch in the beautiful town of St. Helena.  Pick a winery or two to visit along the way, such as Jarvis Estate, Schramsberg Vineyards or Del Dotto Vineyards.  On your way home, travel down the less-crowded and stunningly beautiful Silverado Trail, where you can enjoy the fantastic tasting room at Signorello Estate.  It pays to make reservations for wine tours and tastings in advance whenever possible, to avoid potential disappointments along the way.  If you'd rather opt for a more laid back, yet equally as stunning approach to seeing Napa Valley in the fall, you can't go wrong with a trip on the Napa Valley Wine Train.  This beautiful antique train houses one of the most distinctive Napa restaurants, and runs along 25 of the most beautiful miles through the heart of Napa Valley.
Fall activities in Napa Valley don't stop at wine tasting and scenic drives, though.  If you're looking for a little more excitement, take in the sights from high above the valley on a stunning hot air balloon ride.  As an added benefit, Napa Valley Balloons will transports guests directly to and from the Inn. There are also a variety of themed fall activities taking place around Napa Valley, including the Clif Family Farm Fest, Cooking With Julie cooking classes at the Napa Farmers Market, various release day celebrations at local wineries, and so much more.  Book you room at our beautiful Napa Valley Bed and Breakfast now, so you don't miss any of the wonderful fall activities happening now in Napa Valley.