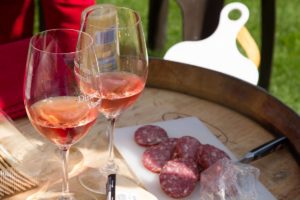 There are few places in the world that can lay claim to the luxury of Napa Valley. This scenic gem in Northern California has long been hailed as a top food and wine destination, but it also consistently ranks as one of the country's top romantic destinations.  That comes as no surprise to us, as the romantic ambiance in Napa Valley is incomparable.  Here, you'll find yourself surrounded by beautiful vineyard-covered hillsides, plush accomodations at our Napa Valley Bed and Breakfast, incredibly good food throughout the valley, and of course a spectacular array of wine and wineries to enjoy.  Fall is absolutely the perfect time of year to enjoy the spoils of Napa Valley. Take advantage of one of our romantic packages when booking your room, then let us help you plan the perfect romantic fall getaway to luxurious Napa Valley.
Fall Getaway Activities in Napa
There is sometimes nothing better or more romantic than holing up in a luxuriously accomodated room at a romantic Inn with the person you love most.  While that is certainly a possibility at our beautifully maintained and landscaped Tudor Mansion, where you'll enjoy silky luxurious linens, in-room jacuzzi's and more, there is also much more to see and do on a romantic fall getaway to Napa.  The possiblities for romance in Napa Valley are endless.  Wine, of course, is a must, whether you take your favorite bottle with you on a romantic picnic for two, or whether you stop in somewhere for an afternoon tasting.  To get acquainted with the romantic charm of Napa Valley, we recommend a quiet picnic for two overlooking Napa Valley's beautiful vineyards. Browse through the delicious gourmet foods at Oakville Grocery, then enjoy your lunch at one of Napa Valley's beautiful parks. After lunch, head to your favorite winery, such as nearby Peju Province Winery, where you'll enjoy an afternoon wandering amongst the vineyards, sipping wine, and reveling in each other's company.  Though there are many wonderful restaurants to enjoy Napa Valley, one popular romantic spot for dinner is the candlelit terrace at Tra Vigne Restaurant in St. Helena.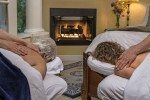 Take your romantic fall getaway to new heights with an unforgettable early morning hot air balloon ride over the valley, followed by irresistable pastries, muffins, and scones at Yountville's Bouchon Bakery.  Afterwards, the day is yours for exploring.  Try some of the sparking wines at Domaine Chandon or Domaine Carneros, or rent a couple of bikes and explore Napa Valley in a completely new way.  After an adventurous afternoon, wind down with a relaxing couples massage in the privacy of your own room at our Bed and Breakfast, followed by an amazing dinner at one of Napa's top rated restaurants.  All of this and more is at your fingertips when you stay at our luxurious Bed and Breakfast in Napa.  Book your fall getaway with us today!