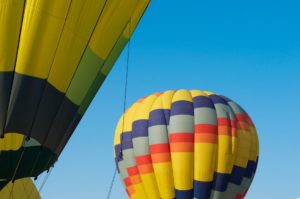 With over 500 wineries dotting the picturesque valley, Napa Valley is the the premiere wine country destination. Though tasting the legendary Chardonnay and Cabernet Sauvignon wines produced here certainly should be on any itinerary, there is much more to do and see here than wine. Each town has it's own unique charm worth exploring, and throughout you'll find exquisite gourmet dining, shopping, arts, and entertainment to balance out your wine tasting itinerary.  During these gorgeous spring months, a favorite thing to do is hot air ballooning over the valley.  Book your room at our romantic Napa Inn, then discover new and interesting ways to explore Napa Valley this spring.
Ballooning Over Napa
Hot air ballooning over Napa Valley is a breathtaking experience that everyone should experience at least once in their lifetime.  Upon liftoff, you'll find yourself with best sunrise view in all of Napa Valley, soaring over picturesque vineyards, an elegantly winding river, and rugged mountain tops.  Napa Valley Balloons is the go-to ballooning company in Napa Valley, having been in business for over 30 years.  When you fly with Napa valley Balloons, the pilot, acting as a personal tour guide, will point out local points of interest as you float through the valley.  In total, the ride will last about an hour, leaving you plenty of time later in the day to sit back and relax.
Once you're safely back on ground, there's no better time to explore downtown Napa.  With an exquisite variety of tasting rooms, gourmet restaurants, and boutique shops, downtown Napa has more than enough to keep you busy all afternoon. For the perfect end to your day, imagine relaxing poolside or on the outdoor patio at our romantic Inn.  If you're looking to add even more luxury into your wine country getaway, then book our "Ultimate Package."  This incredible package offers the perfect combination of Napa's top experiences, including Gourmet candlelight breakfasts, Ballooning in Napa, a customized 5-hour long wine tasting tour with a private driver and gourmet lunch at some of Napa Valley's most exclusive wineries, an in-room couples massage, and a gourmet lunch aboard The Napa Valley Wine Train.  An experience like this can't wait; Book your room at our Napa Valley Bed and Breakfast today.