Napa Valley is home to over 400 wineries with tasting rooms.  If you include neighboring Sonoma, there are over 600 delicious wineries worthy of exploration.  As the summer comes to a close and we enter into fall harvest season, now is the best time to plan a getaway to Napa Valley.  It's "crush" time at Napa wineries, which often means lots of fun activities and action to enjoy while you sip on some delicious wines in tasting rooms across the valley.  Though there's nothing wrong with visiting iconic and well known Napa wineries, there are plenty of other delicious, interesting stops to enjoy as well.  Book your room at our romantic Bed and Breakfast in Napa, and let us help you create a fun and memorable trip through wine country.  
Specialty Napa Wineries
Our Napa Valley Inn is located on the border between the two distinctive wine regions of Napa and Sonoma.  There are plenty of wonderful wineries within easy reach of the Inn, but a few that stand out above the rest.  Add these unique specialty wineries to your wine tasting itinerary this fall, and you won't be disappointed.
This urban winery is located right here in downtown Napa.  They produce small lot, handcrafted, and delicious wines, including Cabernet Sauvignon, Merlot, Syrah, Zinfandel, Rosé of Syrah, Chardonnay, Sauvignon Blanc, Pinot Grigio, and a sweet Muscat.  Wine tastings are paired with seasonal dishes, much of which is grown on site in raised beds across the street.  They also now have a microbrewery, which is currently only open on a membership basis.
Ceja Vineyards is a family-owned winery in Napa founded by Mexican-American immigrants.  Their sustainably grown estate wines include Pinot Noir, Chardonnay, Cabernet Sauvignon, Merlot, Sauvignon Blanc, Syrah, blends and Dulce Beso late harvest white wine.  They are also one of the few Napa wineries that make sparkling wines, which include a Blanc de Noir and a Sparkling Brut.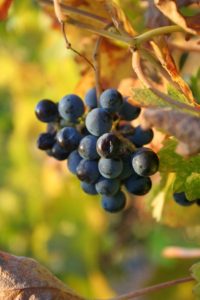 The Hess Collection winery is one of the few Napa wineries in the hills open to the public by walk-in.  Though it's only a short drive away from Napa, it is surrounded by wooded hills in a beautiful location that feels far removed from the rest of Napa Valley.  This unique winery is known as much for its contemporary art collection as it is for its wine, boasting more art than any other winery in Napa Valley.  The art alone is worth the trip, but enjoying a glass of wine in their exquisite stone tasting room is an experience you don't want to miss.
Nestled in the hills of the Carneros wine region, the Artesa Winery offers views of Napa Valley, San Francisco, and it's stunning estate vineyard.  The winery buildings themselves are buried into the hillside so that it fits in beautifully with its natural surroundings.  Though their tasting room is members only, they do offer a daily tour covering the winery & Carneros history, and which also includes a stop in their production facilities and a wine tasting.
Domaine Carneros is where you go for the quintessential California sparkling wine.  Though Domaine Carneros got their start with distinctive sparkling wines, including a classic Vintage Brut cuvée and luxury Le Rêve Blanc de Blancs, they have since expanded their repertoire to include a delicious Pinot Noir.  All Domaine Carneros wines come from the Carneros appellation, with 95% of the fruit grown in their own estate vineyards.  The Domaine Carneros winery château is a regional landmark, and features stunning views of vineyard-covered hills and exquisite table service in their salon.
Robert Baile Vineyards is an interesting winery that began in 1991, primarily making a Zinfandel.  In fact, today they still primarily produce Zinfandels, and do not produce a single Cabernet Sauvignon; a rarity amongst Napa wineries.  When you visit the winery, be sure to ask them about the Black Chicken.  You won't be disappointed.
At nearly 2300 feet up on Howell Mountain, the Robert Craig Winery is one of Napa's highest wineries.  Luckily, they do have a tasting room easily reached in downtown Napa as well.  Founder Robert Craig has been an integral part of farming mountain cabernet in Napa Valley, and was a key player in forming the Mount Veeder and Spring Mountain AVA's. His winery produces a spectacularly complex and cellar-worthy cabernet sauvignon that is best if aged a couple of years prior to opening.
These are just a few of the wonderful wineries waiting for you in Napa Valley.  Perhaps you'll find a new favorite on this list, or rediscover an old one.  No matter how you choose to experience Napa Valley, our knowledgeable Innkeepers are here to help.  Book your stay at Napa Valley's most romantic Inn today.