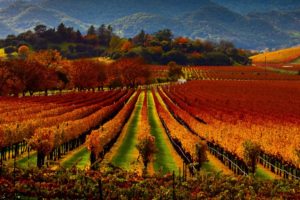 These crisp, fall months practically beg for us to curl up indoors, hidden away from the harsh elements outside.  It's the perfect time to curl up with someone special and focus on romance.  If there's one quintessential place to escape to for romance, it's California's scenic Napa Valley.  Napa, one of the many charming towns in the valley, imbues a sense of romance around every street corner and in every restaurant and shop. Beautiful vineyards spread out across the hills invite visitors into their tasting rooms to sip old favorites or discover new ones, all while taking in the magnificent fall-colored scenery.  No matter how you choose to spend your time, there's no better place to spend a romantic getaway in Napa than at our romantic Bed and Breakfast. Book your stay with us today.
Romantic Getaway in Napa Valley
Downtown Napa is filled with quaint boutiques, exquisite restaurants, abundant tasting rooms, and a unique, charming sense of character. Whether it's the simple pleasures of enjoying a romantic dinner together, or an inspired adventure designed to bring you closer together, Napa has it all.  Here are 10 of our favorite ways to spend a romantic getaway in the historic town of Napa this fall:
As always, your romantic getaway to the Candlelight Inn begins with our superb hospitality.  What follows will no doubt be charming getaway filled with plenty of romance. Book your romantic getaway at Napa's best Bed and Breakfast today!