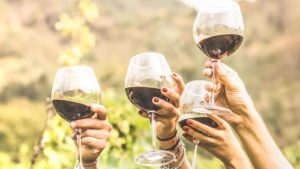 Here we are, at the start of another new year; a time when many of us take stock of our lives, and see a year of promise and hope stretching out before us.  If you listen carefully, you'll hear Napa Valley calling your name, urging you to plan a romantic escape to California's extraordinary wine country.  Whether you've come here every year for decades, or whether you've yet to make the trip, make this the year you discover the fascinating secrets of downtown Napa.  Wine tasting is a given, and gourmet food is a must when you're in Napa.  Beyond that, let us show you how the make the most out of your getaway.  Book your stay at our romantic Bed and Breakfast, conveniently located just outside of downtown Napa.  
Explore Downtown Napa
There are many charming towns and destinations throughout the Napa Valley, but none more inviting than downtown Napa itself.  Aside from it's scenic location along the Napa River, one of our favorite parts about downtown Napa is its walkability. Once you're in town you can forget about the car, and simply enjoy the streets as they unfold in front of you.  You may want to consider getting a wine tasting card for the duration of your stay.  Here are some of our favorite places to visit in downtown Napa:
If you need yet another reason to book your getaway to Napa now, Napa's Restaurant Week kicks off on January 22nd.   During Restaurant Week, guests have the chance to sample from a variety of restaurants.  You can try everything from farm-to-table meals to special prix-fixe menus at unbelievable prices.  It's one of our favorite times to be in Napa.  Book your room at our romantic Inn, and experience Napa with us today.