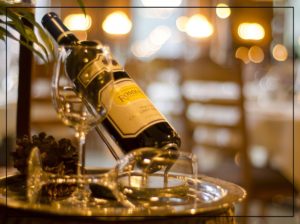 With the holidays just about over for the year, many around the country are looking for ways to relax their way in to 2018.  We can think or no finer thing than a romantic getaway to Napa Valley. Maybe you're looking to elevate your wine expertise, or just take your enjoyment of wine to a new level?  We have the perfect idea for you.  Take your wine tasting experience to the next level this winter, and visit these extraordinarily beautiful wine tasting rooms.  They are truly an experience worth having!  And, of course, when it comes to romantic accommodations in Napa, nothing beats Candlelight Inn.  We are consistently ranked as one of the best Bed and Breakfasts in Napa for a reason:  We put your enjoyment above all else! Book your room at our Napa Bed and Breakfast today.
The Best Wine Tasting Rooms in Napa Valley
Wine tasting in and of itself is usually a wonderful experience, filled with delightful conversation, sensational aromas, and delicious sips of Napa's best wines.  If you're looking for a way to elevate your wine tasting experience, visit some of these tasting rooms.  They've been hailed as some of Napa's most decadent places to sip and sample your way through wine country:
There are more exquisite wine tasting rooms than we have time to mention, but these should at least give you a good start.  Pamper yourself this winter, and enjoy a wine tasting experience like no other in Napa.  Book your room at our Napa Inn today.