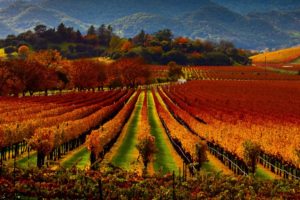 There are always plenty of reasons to visit Napa, and really it doesn't matter what time of year you come.  The wine is always flowing, the food is always delicious, and the people and towns always provide a welcoming and relaxing backdrop to any vacation.  However, there are certain times of the year when Napa Valley is simply magical. Fall happens to be one of those times. As we fully embrace and look forward to the busy fall season in Napa, we're offering five great reasons to visit us this fall. The sixth–and real–reason to visit Napa this fall is the chance to stay at our romantic Bed and Breakfast. There is no where quite like it in Napa, but it's an experience you truly must have for yourself to appreciate. Book your stay with us today!
The Perfect Time to Visit Napa
Fall in Napa Valley is a busy time of year. It is, after-all, harvest season, and the time of year when winemakers around the region finally get a chance to develop the fruits of their labor. The temperatures have begun to cool, outdoor dining takes center stage on warmed patios, seasonal foods star in menus around the valley, and fall color in the vineyards is a spectacular sight to behold. Though there are many reasons to visit Napa this fall, here are 5 of the best reasons to start planning your next getaway today:
Fall is the time to enjoy great wine.  Sure, great wine is available throughout the year in Napa, but it takes on a special tone during the fall, when winemakers around the region are celebrating their hard work. In the fall, you'll be able to sample some of the newest bottles produced by some of the top vineyards.
Take an aerial view of Napa. As the harvest nears completion and the grapevines head into their dormant season, their verdant leaves of summer transform into radiant foliage in fall; a sight that rivals the fall foliage season in New England. A birds-eye view is the best way to take in the colorful hillsides.  Try a hot air balloon ride with Napa Valley Balloons, or take the Gondola ride at Sterling Vineyards.
Head to the Napa Valley Film Festival, which kicks off in November. This annual festival is one of the largest in California, with more than 100 films previewed. The 5-day festival also brings in over 100 different vineyards and wineries, giving you another great opportunity to sample some of Napa's best wines.
The busy summer season is over.  While fall is certainly still a busy time in Napa, it comes with fewer summer crowds, less traffic congestion on the roads, and less competition at wine tasting rooms and restaurants around the valley.
The hot summer weather has cooled, making fall an ideal time to take a bike tour of Napa Valley's vineyards, and otherwise enjoy the myriad of activities available to you in the area. The Napa Valley Vine Trail is an interesting 47-mile long trail worth exploring, and has been divided into 10 sections, organized by city or vineyard AVA. From north to south, these are: Calistoga, St. Helena, Rutherford, Oakville, Yountville, Oak Knoll District, City of Napa, Vista Carneros, American Canyon, and Vallejo.
As we mentioned before, the sixth and best reason to visit Napa this fall is the chance to stay at our top-rated Bed and Breakfast.  The Candlelight Inn Bed and Breakfast is known for its unbeatable romantic ambiance, and is the perfect compliment to any getaway in Napa Valley. Our exceptional staff goes above and beyond, with attention paid to every detail along the way.  Book your room at our Napa Bed and Breakfast today, and come see what sets us apart from other lodging properties in the area.