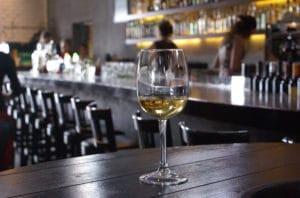 The summer season is upon us, and the crowds are heating up in downtown Napa.  Wine tasting and enjoying the beautiful vineyards in Napa Valley are no doubt the summer's leading attraction, but there's a lot more to discover about Napa Valley than the wine. When you stay at our romantic Bed and Breakfast, you're just minutes from downtown Napa and all it has to offer. From world-class restaurants and wine bars to delightful boutiques and art galleries, there's something for everyone in downtown Napa. After a day of wine tasting in the valley is a great time to unwind and explore the streets of Napa.  On select Sundays this summer, the Sky & Vine Rooftop bar will offer an exception live music event called Music in the Sky. Join us for at least one of these summers, and experience Napa living at its finest.  Book your room at our Bed and Breakfast today!
Sky & Vine Offers Live Music This Summer
There are few better ways to unwind than sitting back and enjoying live music, delicious food, and great drinks.  You can have exactly that this summer when you join the Sky and Vine Rooftop Bar for their Music in the Sky event. Music in the sky will take place on 4 select Sundays this summer, starting on June 23, 2019, and will feature a variety of national recording artists.  The first artist will be Nina Storey, followed by Laura & Anton of Foxtails Brigade on July 21, Keaton Simons on August 18, Monica da Silva & Chad Alger of Complicated Animals on September 15, and Jordie Lane on October 13.
And if the music weren't enough to entice you to this incredible rooftop space, maybe the food will be.  Guests will enjoy bottomless Mimosas and Bloody Mary's, and brunch-inspired passed hors d'oeuvre from Charlie Palmer Steak, featuring menu items such as lobster rolls, fish tacos, sliders, and oysters. Tickets are $50 per person and more than worth the price!
Lodging at our Romantic Bed and Breakfast
However it is you spend your time in Napa, there's one place to choose for lodging accommodations that far outshines the rest, and that is the Candlelight Inn Bed and Breakfast in Napa.  You'll experience hospitality that is second to none, and a location that is unbeatable. Our Napa Bed and Breakfast is truly a destination unlike any other. Come see it for yourself, and book a summer getaway to the incredible Napa Valley today!