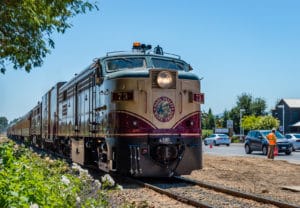 Vineyards and wineries are in full production here in the Napa Valley.  The blissful summer months we've been longing for are at our doorstep, which also means peak travel season in Napa Valley is underway.  While it's certainly a crowded and busy destination during the summer months, there are still plenty of wonderful reasons to make the journey and brave the crowds.  The warmth of the summer sun will beckon you into the beautiful outdoors, unique experiences such as the Napa Valley Wine Train will enchant you, the vibrant energy of the summer crowds will invigorate you, and the plethora of events and festivals will leave you entertained.  No matter what you choose to do when here, make sure you plan ahead, and remember that there will always be plenty of wine to sip and enjoy.  But first, you need to book your room at Napa's most romantic Bed and Breakfast, the Candlelight Inn.
Murder Mystery on the Napa Valley Wine Train
There's little doubt that one of the best things about Napa Valley, other than the wine, is the one of a kind experiences you can only find here. One such experience is the Napa Valley Wine Train, which has been hailed as one of the most distinctive restaurants in the entire Napa Valley.  The Napa Valley Wine Train is an unforgettable dining experience, reminiscent of days gone by, and when train travel was an everyday part of life.  The train itself is an exquisitely restored collection of antique railcars, each with their own history, that travel through the 25-mile scenic heart of Napa Valley.  While you wait, a delectable meal will be prepared in one of the three on-board kitchens that make up the moving Napa Valley Wine Train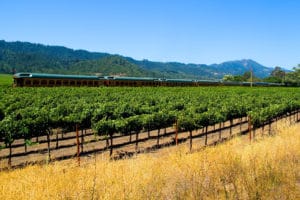 restaurant.  The rotating seasonal menus and luxurious experience will do anything but disappoint.
For an added touch of fun, try the Murder Mystery Dinner Train, one of the special events offered on board the Wine Train. The vintage trains are transformed into a stylish speakeasy from the 1920s, followed by murder, mayhem, and plenty of fun. And, of course, a multi-course gourmet meal and an extensive list of Napa Valley's best wines are part of the journey.
Book your Napa Valley Wine Train reservations early, and start planning your wonderful getaway to Napa Valley this summer. When looking for accommodations, there is nowhere finer than Napa's Candlelight Inn.