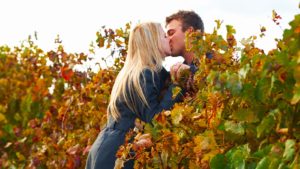 It's been an enjoyable summer in Napa Valley, filled with plenty of wine tasting, great food, and great friends. As we wind down another summer and head into fall, it's time to get excited about the upcoming wine harvest season. Grape-growing is a long and involved process that occurs throughout the year, but the fall harvest season is special. Vineyards and the wineries come to life, as their workers race against the clock to pick grapes at their peak ripeness and begin the winemaking process. The entire valley is filled with the wonderful smells of harvest, and celebrations take place at wineries everywhere. From grape stomping and parades to gourmet food and the season's best wine parties, harvest season is a great time to visit us in Napa Valley. Our Bed and Breakfast, situated on the border between the Sonoma and Napa wine regions, and at the gateway to the Los Carneros Wine Region, is the perfect place to base your fall getaway.  Book your room at our Napa Bed and Breakfast today!
2019 Wine Harvest Events You Don't Want to Miss!
The first wines of the season to get picked are those for sparkling wines, followed by white wines, then most of the red varieties.  The grapes for Napa's signature Cabernet Sauvignon are picked later than most. Given that we're situated between two of the greatest wine-growing regions in the country, you can expect there to be a variety of excellent wine harvest events for you to partake in. To help you make the most of your time in Napa this fall, we've created a list of 10 of our favorite harvest celebrations and grape stomps in both Napa and Sonoma.
Napa Harvest Events
Sonoma Harvest Events
If you're looking for more fun things to do in Napa, try these great hands-on wine experiences and other fall harvest events around the valley. Though not wine-related, another great fall harvest event to attend this fall is The CIA at Copia's third-annual Ciderfest. Spend the afternoon enjoying seasonal food, live music, and local cider on September 1, 2019.
Unwind at a Romantic Bed and Breakfast
All of your hard work during harvest needs to be rewarded. For that, there are the relaxing accommodations at Napa's most romantic Bed and Breakfast, the Candlelight Inn.  We offer exceptional guest rooms coupled with unparalleled service and hospitality, all just minutes from downtown Napa.  Come join us for 2019's upcoming harvest season!  Book your room today.