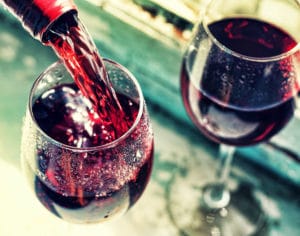 If you've always wanted to attend the Napa Valley Film Festival but never quite found the time to do so, this is the year to make it happen.  The 2019  Napa Valley Film Festival is going to be spectacular, but it's not the only reason to visit us this fall.  The film festival will be taking place in November, which also happens to coincide perfectly with Napa's famed Cabernet Season. While Napa Valley has a reputation for quite a few things, the hallmark product of Napa Valley is Cabernet Sauvignon. By the end of harvest each year, new vintages are sitting in barrels beginning their aging process, while products of years' past are ready to be corked, tasted, and enjoyed. But Cabernet Season is about so much more than exceptionally good wine. It's a season to sit back, relax, and enjoy a much less crowded and more intimate experience in the country's top wine tasting region.  So this fall, join us not just for the Napa Valley Film Festival, but for the start of Cabernet Season as well. Book your room at our Napa Bed and Breakfast today!
2019 Napa Valley Film Festival Highlights
The Napa Valley Film Festival is one of the best in the country, highlighting some of the best independent filmmakers in the industry.  2019's festival will take place November 13 – 17 at a variety of venues around the valley. The venues range from historic landmark theaters like Napa's Uptown Theatre to venues that have been specially designed exclusively for this cinematic experience. And, since the festival takes place in Napa Valley, it comes with exceptional food and wine experiences. There is a lot going over the course of the 5 festival days, but we've put together a list of 3 reasons to attend this year's festival:
Depending on your time and commitment, screen as many of the 75 new independent films that will debut at the Napa Valley Film Festival. Film Festival attendees also get sneak peeks at upcoming studio releases, some of which are potentially in the running for a Golden Globe or Academy Awards nomination.
There will be over 300 visiting filmmakers and actors in the area, and this is your chance to interact with them at Q&A events, educational panels, and parties.
Attend incredible food and wine events throughout the duration of the festival, including things like afternoon wine-tastings, culinary demonstrations, and winemaker dinners. There will be approximately 150 participating wineries and 50 participating restaurants and chefs.
Get Your Film Festival Tickets
There are a variety of ticket and pass options for attendees of this year's Napa Valley Film Festival. If you want to see all the films, plus attend parties with Hollywood elites and filmmakers, you'll want to buy access to the Patron Circle. The Pass Plus (starts at $575) gives you priority access to all film screenings, culinary demonstrations, and wine tastings. It also includes invitations to festival parties and special tribute events. If you're just here for the films, get the festival pass, which starts at $225 for weekend-only access. The full 5-day pass is just slightly more at $295. If you're short on time, opt for the Flex Pass, which gives you access to 5 screenings for $125.
Cabernet Season at our Napa Bed and Breakfast
There are a lot of reasons to love Napa in the fall, but our favorite is settling down with a glass of the valley's finest Cabernet Sauvignon. Elevate that experience and sip a glass of this year's finest vintages at our romantic Bed and Breakfast, located just minutes from downtown Napa. You'll find that one of the best parts about waking up in Napa Valley is enjoying our signature breakfast, made-from-scratch daily with seasonal local produce. From there, the adventure is yours to embrace.  Book a room at our Napa Bed and Breakfast today!