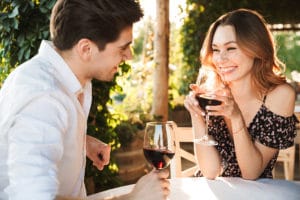 As we settle into the slower winter months in Napa Valley, we're finding that romance is on our mind. It's on the hearts and minds of those at the Napa Valley Wine Train, too. If you're looking for something romantic to do this winter, now is the perfect time to book the Romance on the Rails package. Travel back in time to a more sophisticated and elegant era and celebrate all things romance aboard the Napa Valley Wine Train this winter.
No matter what you choose to do in Napa Valley, make sure you plan ahead, and remember that there will always be plenty of wine to sip and enjoy.  Round out your romantic getaway with the stay at Napa's most romantic Bed and Breakfast, the Candlelight Inn. We'll take care of details large and small, to ensure you have a perfect getaway to Napa.  Book your room today!
Napa Valley Wine Train Brings Us Romance on the Rails
There's little doubt that the best things about Napa Valley, other than the wine, are the one of a kind experiences you can only find here. One such experience is the Napa Valley Wine Train, which has been hailed as one of the most distinctive restaurants in the entire Napa Valley.  The Napa Valley Wine Train is an unforgettable dining experience, reminiscent of days gone by, and when train travel was an everyday part of life.
The train itself is an exquisitely restored collection of antique railcars, each with their own history, that travels through the 25-mile scenic heart of Napa Valley.  While you wait, a delectable meal will be prepared in one of the three on-board kitchens that make up the moving Napa Valley Wine Train restaurant that will not disappoint.
Turn up the romance, and book the Romance on the Rails Package with the Napa Valley Wine Train. You'll enjoy your 3-hour trip in the stunningly plush and intimate booths of the 2-story Vista Dome. Romance on the Rails is a special Napa Valley Wine Train event that accommodates only 16 parties. You'll be welcomed with a glass of sparkling wine, and from there you'll be pampered with a delectable 3-course menu, complete with 2 glasses of exclusive private label wines.
The next available date for the Romance on the Rails package is February 8th, 2020. Check-in for these incredible train rides begins at 5:30 pm, with departure at 6:30 pm.
Napa's Best Bed and Breakfast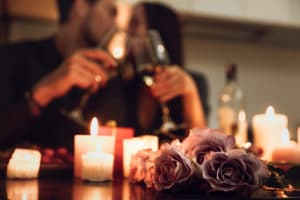 After an exquisite evening aboard the Napa Valley Wine Train, you'll be ready to return to the guest rooms at Candlelight Inn Bed and Breakfast. From the moment you drive up to our beautiful English Tudor-style mansion, you'll see what sets us apart from the rest. Each of our guest rooms is well-appointed with unique décor, with many featuring two-person Jacuzzi tubs. Let our dedicated staff take care of you, so you can sit back, relax, and enjoy the best of Napa.
Our concierge can help you arrange wine tasting tours, dinner reservations, hot-air balloon rides, in-room massages, and anything else you may want to enjoy while you're here. Napa is, of course, the country's premier wine tasting destination, with more wineries, vineyards, and tasting rooms to visit than you can possibly conquer in one trip. Your time here can be spent dining out, sipping on wine, shopping, biking, hiking, driving through the beautiful countryside, laughing with friends, or just relaxing and focusing on romance at our Napa Bed and Breakfast.
Whatever it is you want to do, rest assured you'll enjoy the perfect Napa getaway while you're with us. Book your room at Candlelight Inn Bed and Breakfast today!