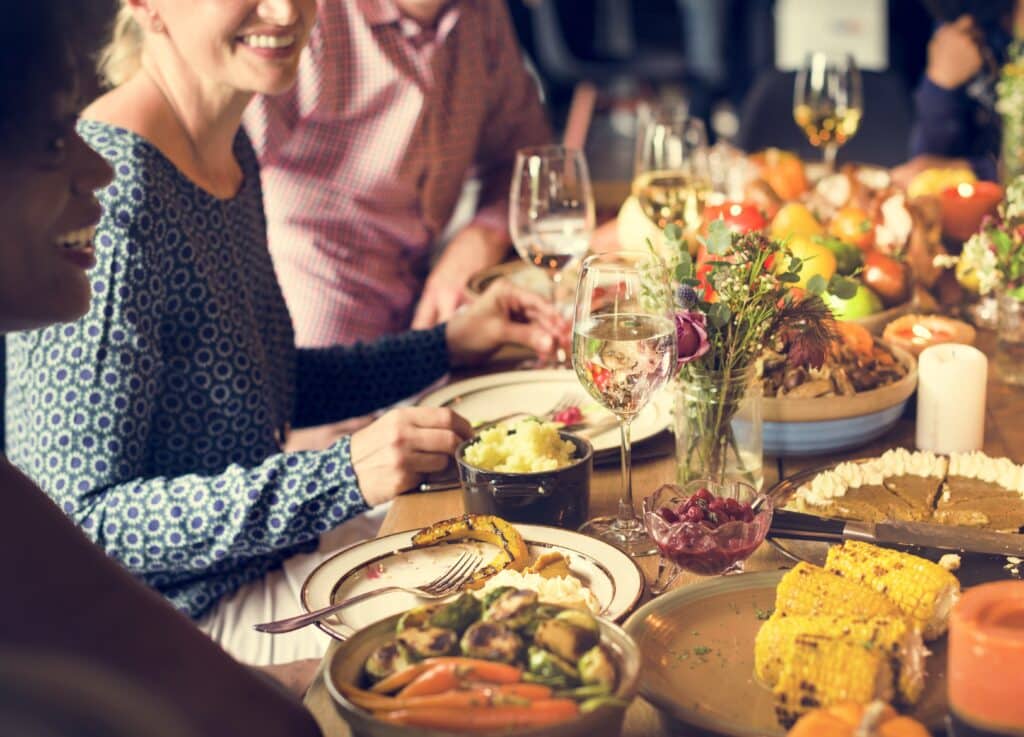 Thanksgiving season is too often accompanied by a heavy dose of event-planning stress. But it doesn't have to be! Forget the traffic and tensions of family obligations. Instead, spend Thanksgiving in Napa Valley a peaceful getaway surrounded by natural beauty.
Napa Valley is known around the world for its stunning vineyards, world-class wine, and laid-back California culture. It is also home to over a dozen Michelin-star restaurants, natural mud bath spas, and endless outdoor adventures to keep your bellies full and your family memories topped up!
Here are 7 must-dos over Thanksgiving weekend in Napa Valley:
1. Indulge at Thanksgiving Dinner
Just because you turned Thanksgiving 2023 into a weekend getaway doesn't mean you have to do without a Thanksgiving feast! Napa Valley is known for its farm-to-table culture, and the holidays are the perfect time to taste the best the season has to offer. FARM Restaurant on Old Sonoma Highway has an impeccable wine list, heart-healthy dishes, and a casual yet elegant atmosphere. Imagine feasting on their famous lobster carpaccio with poached-Meyer lemon sorbet and a homemade panna cotta… without having to do a single dish! 
If you're looking to really celebrate this Thanksgiving weekend, book a table at one of the famous Michelin restaurants in Napa Valley. The French Laundry books up to a year in advance, so you won't want to wait a minute more!
2. Get in the holiday spirit at the Merry Meritage Holiday Ice Rink.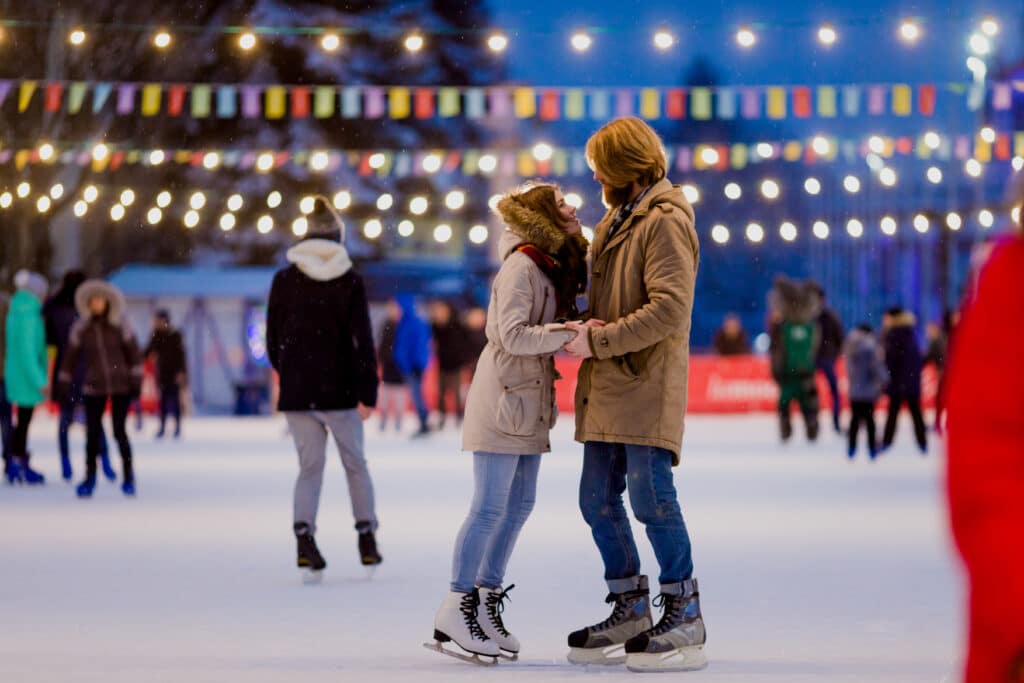 Celebrate the season early and visit the Merry Meritage Holiday Ice Rink at the Meritage Resort and Spa. The ice rink will open on November 17th and will run until January 7th. Skate on ice, relax with a hot drink in front of the fire in their VIP firepits and listen to carolers perform live. It's one of the best things to do on Thanksgiving in Napa Valley to get you in the holiday spirit. With twinkling vines all around and Santa coming to join the fun, it will be a night to remember! There will also be an artisan holiday market on weekends and VIP Igloos open for reservations if you fancy. For tickets, book here.
3. Elevate your experience… in a hot air balloon!
You might feel full after Thanksgiving dinner, but a ride around Napa Valley in a hot air balloon will have you feeling light as a feather. The views of Napa Valley in the fall are like no other –- the changing of leaves, rolling wineries, and the low fog that rolls in over the Bay make for the most magical family experience. It is one of the best ways to enjoy the Valley and partake in a 250-year-old tradition! Legend has it that hot air balloon pilots used to fly with a bottle of Champagne as a peace offering for landing on neighboring farmland. Dress warm and pack your camera for stunning photo ops! If you get lucky, your pilot will have a bottle of bubbly for you to enjoy in the sky!
4. Join the Napa Valley Turkey Chase
View this post on Instagram
Thanksgiving in Napa Valley usually means waking up early for an annual turkey trot around your local park. If you feel like jumping in the community spirit and burning calories before your big Thanksgiving dinner while helping out charitable institutions, join the Napa Valley Turkey Chase on November 23, 2023 at Napa Valley College. There are 2 courses, 5k and 10k, going around the college and the Napa River Trail. There's also a free ​​100-meter Turkey Dash for kids under 7 years old, just for fun. 
The proceeds for this Thanksgiving event in Napa Valley will support local charities. You can also donate old running shoes that are not worn out or new toys and drop them at their Toys 4 Tots collection box. Click here to register for the event early. You can also register on the day by going to their stall just adjacent to the start line, but you won't be guaranteed a race shirt. 
5. Get muddy in a luxury spa.
Between the wine tastings and balloon rides, you might appreciate some much-needed downtime, and there is no better way to do that than with a famous mud bath. Take a drive to Calistoga and check out Dr. Wilkinson's Mineral Springs or The Spa at Indian Springs Calistoga for a dip into their proprietary bath blend of mineral water, peat, and ash. There's also The mud baths in Calistoga are famous for their healing properties, and despite being, well, mud, you will undoubtedly leave feeling clean and refreshed. 
6. Connect with nature at Connolly Ranch
View this post on Instagram
If you're traveling to Napa Valley with kids, a visit to the Connolly Ranch is a great Thanksgiving weekend activity. Together you will learn about farm life, the importance of nature and sustainability, and the benefits of healthy foods firsthand. For over 25 years, the Ranch has created programs for children pre-K through high school to encourage the next generation to be more environmentally conscious and connected to the entire food cycle. 
For parents looking to connect without the kids, Connolly Ranch offers a full-day Thanksgiving break camp for the kiddos aged 3-12 on November 20 & 21, 2023. This could be a great opportunity for you to enjoy a round of golf at the 150-acre Chardonnay Golf Club or participate in a wildlife-tracking excursion with the Napa Land Trust while the kids are away.
7. Trailblaze along the Napa Valley Wine Trail
If you don't feel like waking up at 7 am while on vacation to join the Turkey Chase, rent a few bicycles (or even a tandem bike!) at Napa Valley Bike Tours and cruise along the 12.5 miles of trails that weave through the vineyard-lined streets of wine country. 
With most of the trail on flat ground, you'll find that spending a day on the go is a truly inspiring way to enjoy Thanksgiving weekend. Stop off at a local winery for a wine tasting of California's finest grapes, eat lunch with the kids at a kid-friendly farm-to-table eatery, and end the day with a round of bocce ball that will have the whole family laughing.
Your local bike shop will be able to provide several different route options with varying scenery, yummy pitstops, and artisanal shops for a head start on Christmas gifting!
_______________________________________________________________________________________________________
Start this holiday season off on the right foot and spend Thanksgiving weekend in Napa Valley. There is much to enjoy, explore and be grateful for! Make the most of your trip and call the Candlelight Inn your home away from home. Voted one of the top Napa Valley Bed and Breakfast, we offer an unparalleled experience just near the heart of downtown Napa.