Do You Want to Know the Best Time to Visit Napa Valley?
One of the most common questions we get at our Napa Bed and Breakfast is, "When is the best time to visit Napa Valley?"  Arguably, there is a "best" time to visit Napa Valley – and that centers on the extraordinary fall harvest that takes place each year. The season is a veritable feast for the senses and a true delight for wine lovers around the world.  
But we can also make the argument that there really is no singular "best" time to visit Napa Valley, as it is a pretty great destination throughout the year. With more than 500 wineries and growing, Napa is the most well-known and robust wine-growing region in the United States. Within Napa Valley, of course, there are multiple wine growing regions, or appellations, each of which offers its own unique style, setting, history, and flavor profiles. 
While the chance to enjoy unprecedented and intimate wine tastings and wine tours are what brings so many visitors to the area, there's also so much more to Napa Valley than great wine.  With that wine, of course, comes great food.  Napa Valley is home to a delicious array of Michelin-star restaurants and farm-to-table cuisine that rivals other food-centric cities around the world. 
Beyond tantalizing your tastebuds, Napa also has much to offer a range of travelers, including great shopping, enjoying indulgent treatments at world-class spas, soaking up art and culture, and exploring the scenic wide-open spaces the valley is known for. Add to that a variety of other things to do in Napa Valley, including a regularly packed calendar of events, and you have a fantastic getaway destination no matter the season.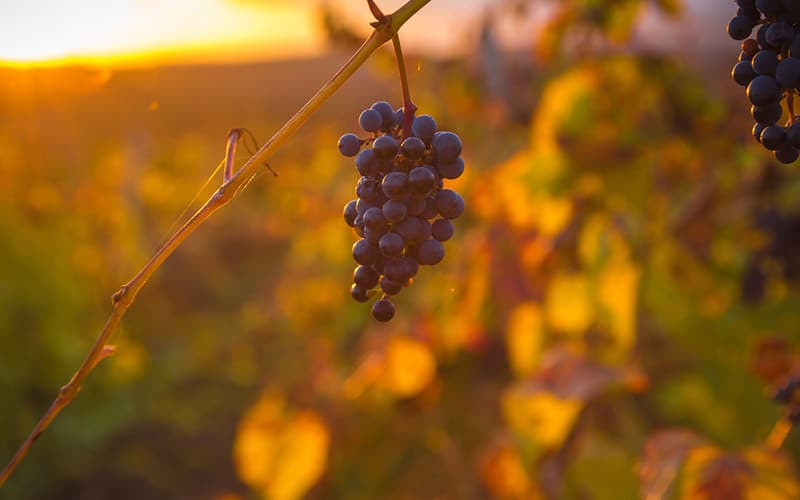 Fall, a season defined by hard work and bright colors, is a veritable feast for the senses. It tops our list as the best time to visit Napa Valley.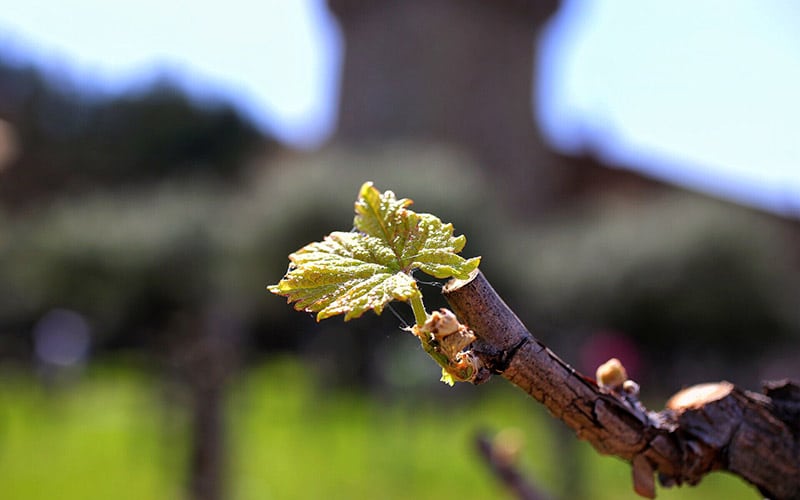 Bud break begins, and vineyards are blanketed by the vibrant yellow of mustard plants across the valley.  This is spring in Napa Valley.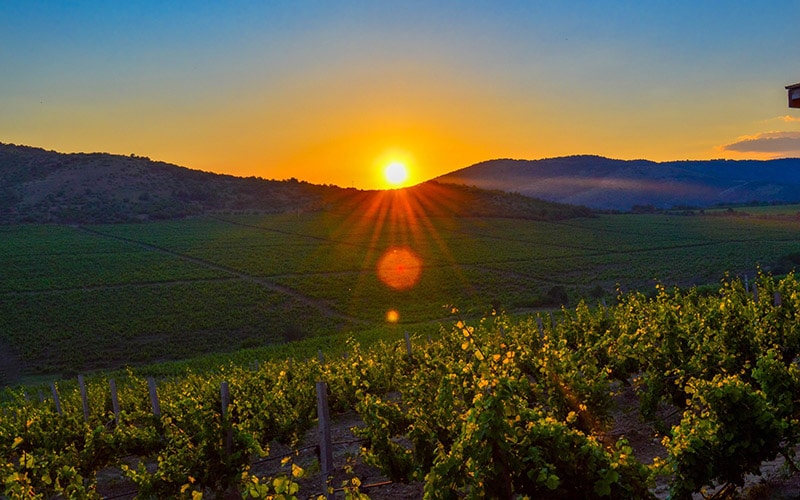 A season to sit back and relax with a glass of wine, and soaking up the warm summer days and long summer nights.  This is summer in the valley.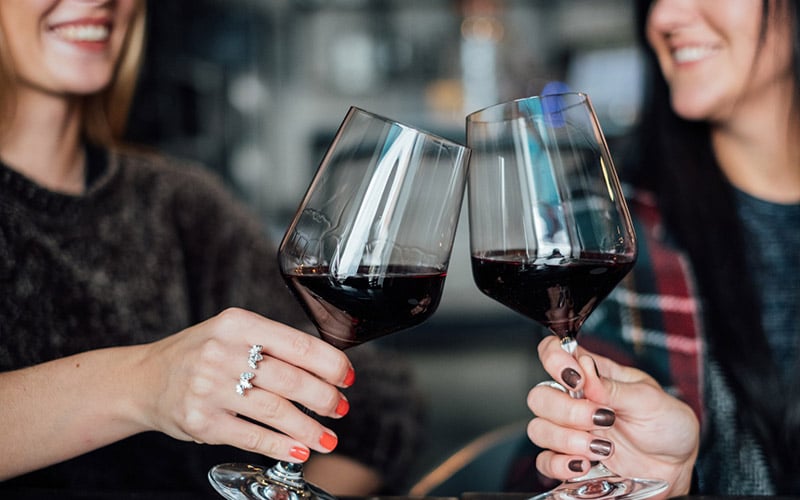 The crowds are gone, but the tasting rooms are open.  Cellar season is an intimate & cozy time to visit and explore the depths of Napa Valley.
The BEST Time to Visit Napa Valley Is Fall
As mentioned previously, while there really isn't a "bad" time to visit the area, there is definitely a time of year when it's considered the best time to visit Napa Valley. In our opinion, that's fall!  Fall in Napa Valley, a time when the annual grape (and other) harvest is in full swing, and when the valley is positively abuzz with excitement over the upcoming vintages in production, is such a wonderful time of year.
The fall harvest season is a special one. Grape-growing is a long and involved process that requires thoughtful dedication from farmworkers and winemakers throughout the year. Each fall, vineyards and wineries come to life as their workers race against the clock to pick grapes at their peak ripeness and begin the winemaking process. The entire valley is filled with the wonderful smells of harvest, and celebrations take place at wineries everywhere.
From grape stomping and parades to gourmet farm-to-table food, fall is a season for Napa Valley's best wine parties and events. And at the end of this season that all of the hard work pays off, as the literal fruits of the valley's artisans' labor come together, culminating in this year's unique vintage. 
If the sights, sounds, and smells aren't enough of a reason to consider fall the best time to visit Napa Valley, then perhaps the vibrant colors of fall, from vineyard to mountaintop, will be? Fall is truly a feast for each of the senses here in wine country, and this is at the heart of the reason we think fall makes the best time to visit Napa Valley.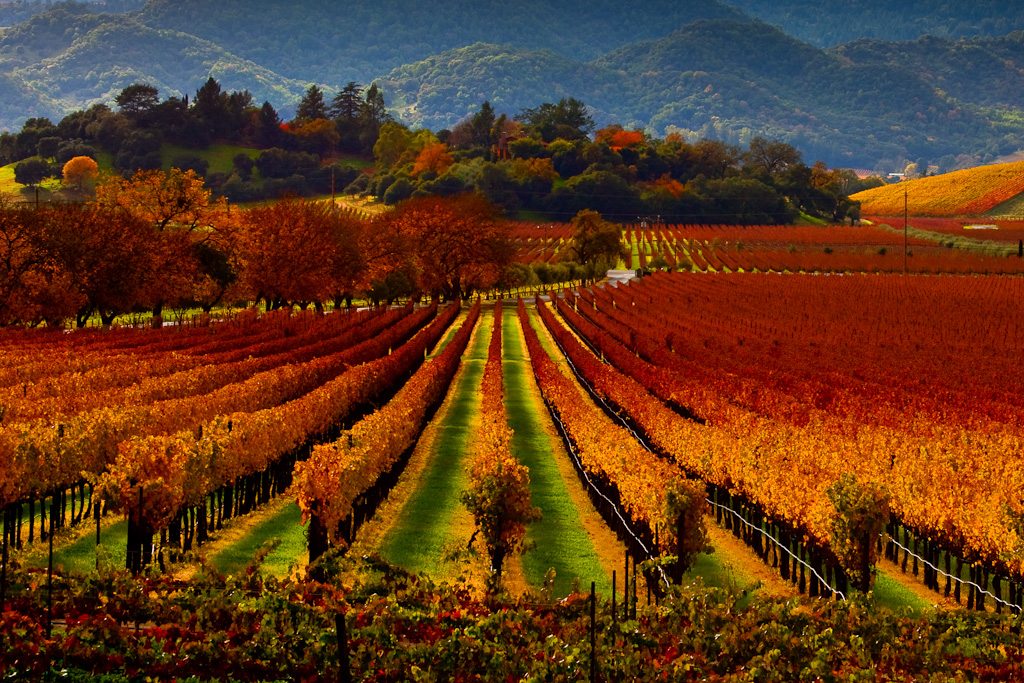 August in Napa Valley
While August is technically more a part of summer than it is fall, we can't ignore this pivotal month when talking about fall in Napa valley.  August is, after all, when the annual harvest really gets under way!
September in Napa Valley
While things start to slowly get moving in August, you can really expect the pace of the annual grape harvest to pick up in September, which also means the pace of harvest-related events picks up in September.  September is most often spent picking the wine grapes that will later be used in making sparkling and white wines. This is the best time to visit Napa Valley if you're interested in things like grape stomps and bountiful farm-to-table dinners, both hallmarks of the fall season in Napa Valley. 
October in Napa Valley
Harvest events and wine celebrations continue well into October, of course, with the harvest of later season grapes like Cabernet Sauvignon.  October is also when the foliage in Napa Valley is in full effect.  Not only are the trees surrounding Napa brightly displaying their annual hues of fall, but the vineyards themselves are positively ablaze with color. One look around during the month of October, and you really can understand why we think fall is the best time to visit Napa Valley!
November in Napa Valley
November is a special month for everyone that lives and works in Napa Valley.  This is the month that kicks off what's known as "Cabernet Season." Cabernet Season, which lasts from November through the earliest months of spring, is the perfect season for cozy, romantic getaways. It's a season where a much more intimate experience is not just possible but expected. You can expect fewer crowds competing for space in wineries, tasting rooms, and restaurants, and more winemakers and artisans available to talk to you and make your experience in Napa Valley all the more personal. 
Video: Fall Harvest in Napa Valley
Is There Another "Best" Time to Visit Napa Valley?
While we have already said that fall is the best time to visit Napa Valley – and we stand behind that assertion – you have probably also already surmised that providing a definitive answer to the question "When is the best time to visit Napa Valley" isn't really all that easy.  We can find something we love about each and every season in Napa Valley, and could just as easily say that every season is the best time to visit Napa Valley!
Each season in Napa Valley has a distinct personality, too, so we suppose that asserting the best time to visit Napa Valley really is a personal decision.  With that in mind, we'd like to give you a little taste of just what it might be like in Napa Valley in each of the other 3 remaining seasons.  You'll just have to find time to visit us in all four of them so that you can categorically answer for yourself just exactly which season is the best time to visit Napa Valley!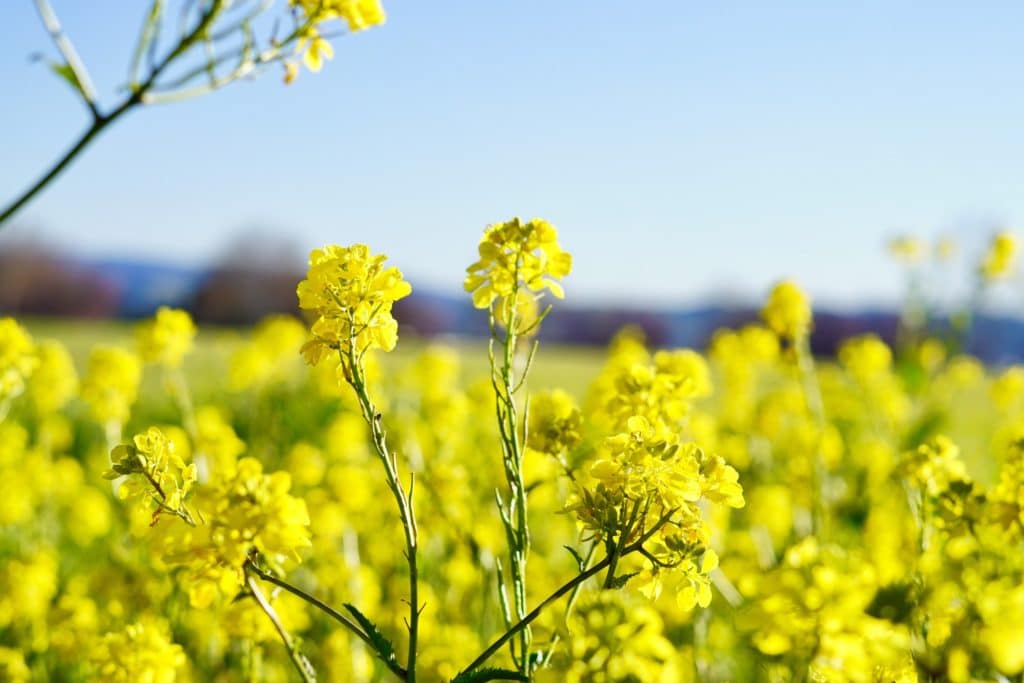 Spring in Napa Valley
Spring is Napa Valley is nothing short of delightful.  Spring in Napa Valley is more than just a time of renewal; it's a season positively bursting with color and hope for what lies ahead. 
Suddenly, the vineyards that have been dormant over the winter are bursting with the bright yellow of mustard flowers – a popular cover crop used by farmers throughout the valley.  Soon, the fruit trees begin to bloom as the days and hours of sunshine grow longer, and eventually, the long-awaited bud break takes off. 
In April, Napa Valley celebrates the arts with the annual Arts in April events. This event showcases more than 40 artistic and cultural events around the valley.  Then, it's time for perhaps the culminating event of spring in Napa Valley; Bottlerock*.  This annual music festival is enormously popular and is known just as much for the food, wine, and brews as it is the music. 
*Bottlerock 2021 has been postponed to Labor Day Weekend but will be back in 2022 as a spring event.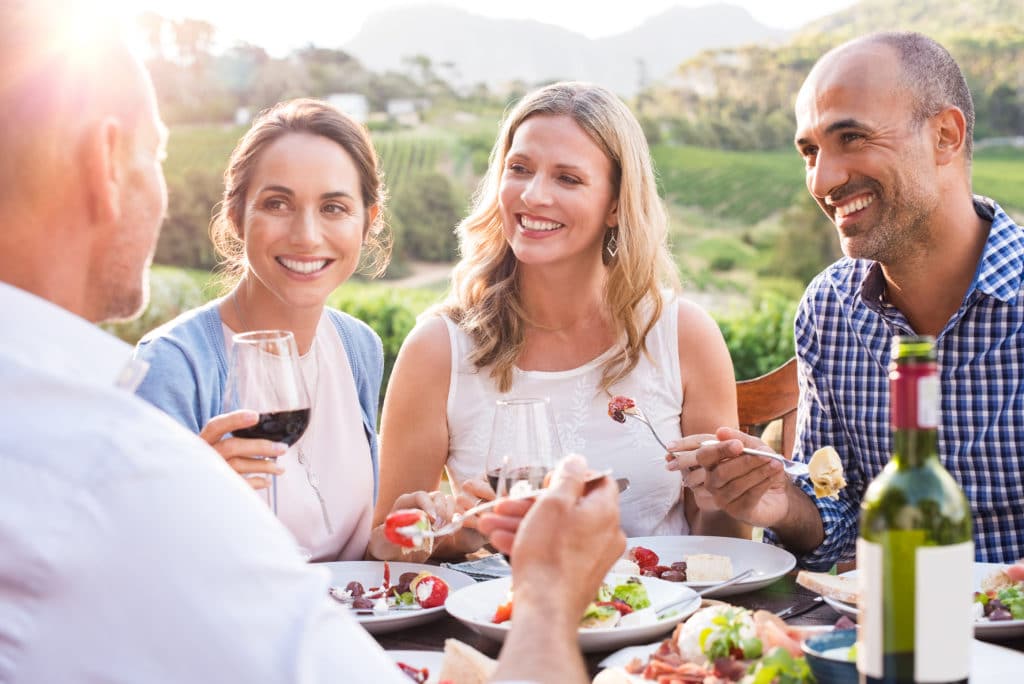 Summer in Napa Valley
For many, summer is considered to be the best time to visit Napa Valley.  It's warm and undeniably beautiful, with rolling green vineyards dotting the valley, all made better by the long days filled with sunshine. Cap all of this off with glorious sunsets and seasonably warm evenings, best enjoyed by dining and drinking outside, and summer really is wonderful here in Napa Valley. 
Summer is also a wonderful time to fully embrace life in Napa Valley, which involves much more than wine tasting – though you really must leave yourself plenty of time for that, as well!  Whether you choose to lounge poolside soaking up the warm summer sun, or something a bit more adventurous like
hot air ballooning
, kayaking or paddleboarding down the Napa River, enjoying
summer concerts
, or
biking
your way from one tasting to the next, there's something for everyone in Napa Valley during the summer.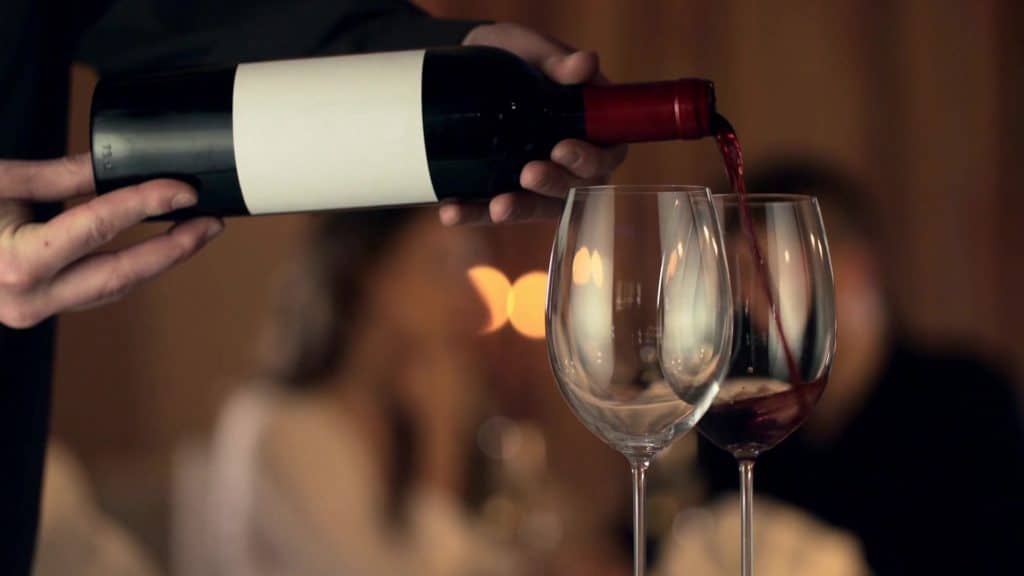 Winter in Napa Valley
As we mentioned above, November kicks off what's known as Cabernet Season here in Napa Valley. This intimate and cozy season, which is positively perfect for romantic getaways, continues into the early month of spring, too.  It's a quiet time to be in the valley, which, for some, might just mean it's the best time to visit Napa Valley. 
With fewer crowds, winter is a wonderful time to enjoy wine tasting and elevated wine experiences. It's also easier to get reservations at some of the most coveted restaurants in the Valley – not to mention the many food festivals that take place during these winter months! Winter is also a more affordable time to enjoy Napa Valley, with many of the top lodging properties offering deals and discounts for those willing to travel during the off-peak season. 
The weather in Napa Valley is relatively mild and enjoyable throughout the year.  The summers are long, warm, and relatively dry, with the average temperature in the 70-80 degree range.  Though the winters are cooler and a little wetter, they are still mild, with temperatures from November – February averaging in the '50s and even '60s 
The best time to visit Napa is from August to October when the fall harvest is in full swing.  The weather during this period of time is absolutely perfect. Whenever you visit Napa, it's always a good idea to bring a coat, as the evenings can get a bit chilly. 
Monthly Chart of Napa Valley Temperatures
There's No Bad Time to Visit Napa Valley
The Best Time to Stay at our Romantic Napa Bed and Breakfast
Though many will agree that the best time to visit Napa Valley is in the fall, we hope we've shown just how dynamic this world-renowned wine-growing region really can be throughout the year. Perhaps we've even enticed you to visit when you might not otherwise have considered a trip to this extraordinary part of the world?
And, of course, whenever you do decide to visit Napa Valley, there's only one place worth staying, and that is our romantic Napa Bed and Breakfast. We know that an essential part of a great getaway is where you stay. To that end, we take special care to treat you to a truly romantic and one-of-a-kind stay while you're at our Napa Bed and Breakfast. Further, our Bed and Breakfast is located just minutes outside of downtown Napa and on the border between the esteemed Napa and Sonoma wine regions, giving you unparalleled access to California's wine country from one easy location.
The Candlelight Inn has earned its reputation for excellence and is rated the #1 Napa Bed and Breakfast for good reason. We pride ourselves on providing outstanding and romantic accommodations for our guests, and we excel in personal concierge service both before and during your stay with us. It's this focus on excellence that makes us the #1 place to stay when you visit Napa Valley. Here are just a few of the things we offer that our competitors don't:
Our Napa Bed and Breakfast features 11 distinctly decorated guest rooms, where every detail is attended to with genuine care. Our goal is for your experience to far exceed even the highest of expectations. 
We put extra touches into everything we do, including our amenities, which include things like pillow-top mattresses and Comphy brand linens. We also offer additional services, including couples massages (in-room or under our tented gazebo), private wine tours, and concierge service for restaurant and wine-tasting reservations. 
Every morning of your stay, we'll serve you a scrumptious, gourmet breakfast that is made from scratch each morning. These breakfasts, which use the freshest local ingredients whenever possible, are considered by many to be a culinary work of art – we don't think you'll be disappointed!
We want to help you enjoy the very best of Napa, which is why we've curated a number of packages that include the top experiences and attractions in Napa.
As you can see, we consistently go the extra mile to make your stay in Napa truly extraordinary.