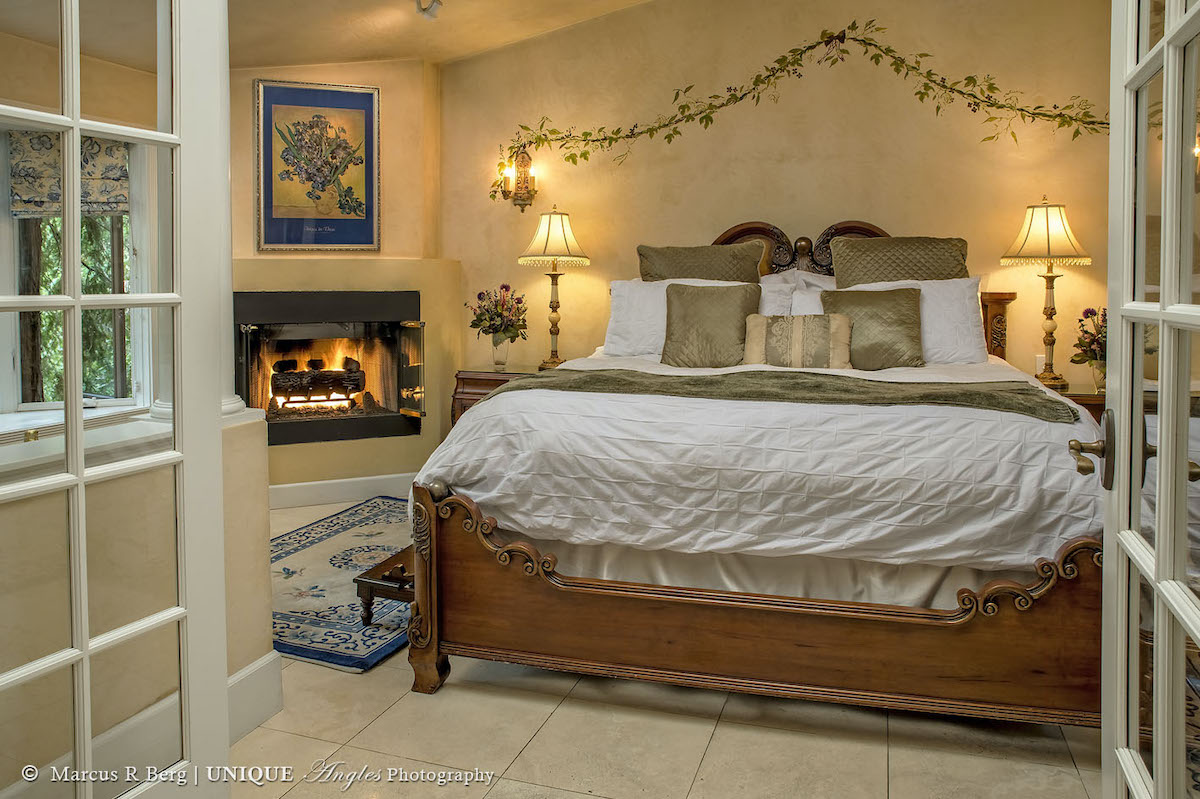 With the New Year comes resolutions, and one of the best ideas for 2022 is to travel more! Our Napa Bed and Breakfast is the perfect lodging choice for your next romantic getaway. Not only are we in the heart of Napa and minutes from the downtown area, but we're also within ten minutes from more than 100 fantastic Napa Valley wineries. Lucky for us, wine tasting just so happens to be one of the more romantic activities you can plan for your memorable trip for two.
As you turn down the drive to our elegant Napa Bed and Breakfast, our stunning 1929 English Tudor-style Inn rests on a tributary of the Napa River surrounded by gardens and in the shadow of a small Redwood grove. In the backyard, you'll find an oasis with our seasonal pool, vine shaded lounge areas and sweeping lawns for relaxing days in the sun. Inside, our air-conditioned and spacious Napa Bed and Breakfast offers ten beautifully appointed guest suites, shared living space, and dining room.
You'll see instantly why love is in the air at our Napa Bed and Breakfast. Check out our upcoming availability in the New Year and book your next romantic getaway today!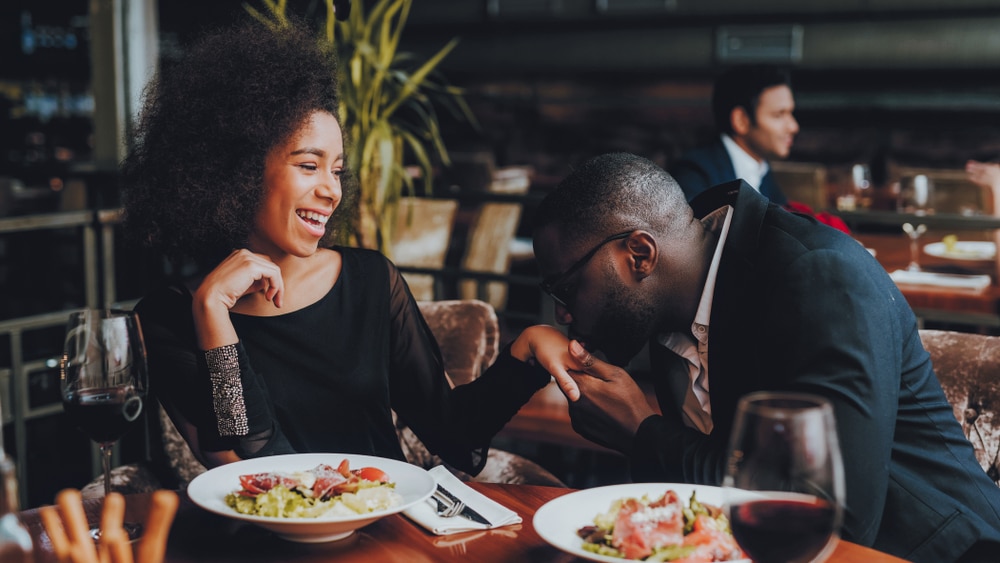 Romantic Things to do Near our Napa Bed and Breakfast
The Napa Valley is the perfect backdrop to any romantic getaway. Rolling hills covered in rows of vines, crisp mornings opening up to the warmth of the sun, and temperate evenings best spent with a glass of Napa Cabernet and a cozy fire. Our Napa Bed and Breakfast exudes an inviting atmosphere, and you can't help but fall more in love here.
The Napa Valley is packed with romantic adventures; here are six things to do nearby our Inn:
The Napa Valley is the premier wine tasting destination in the country, so most of our guests often fill their days exploring the nearby wineries for tastings and tours. One of our all-time favorites is Artesa Vineyards and Winery (only about ten minutes from our Napa Bed and Breakfast) with stunning panoramic views, an extensive array of varietals including Spanish grapes, and a special tapas tasting menu not to miss.
One thing is for sure, you're going to have excellent meals here during your stay. Not only will you enjoy our gourmet multi-course breakfast each morning, but you'll be surrounded by elegant 5-star dining options. We're only 15 minutes from the famed French Laundry (though reservations are hard to come by), and you'll find a host of lovely riverfront dining experiences, including the French country Angele Restaurant and Celadon serving upscale comfort food.
While the wineries pull a lot of visitors to this area, recently, there's been a boom in the brewery business. Thankfully, the Napa sunshine pairs perfectly with a cold, hoppy brew. Newcomers Tannery Bend Beerworks and Trade Brewing are great casual spots to stop for locally brewed ale.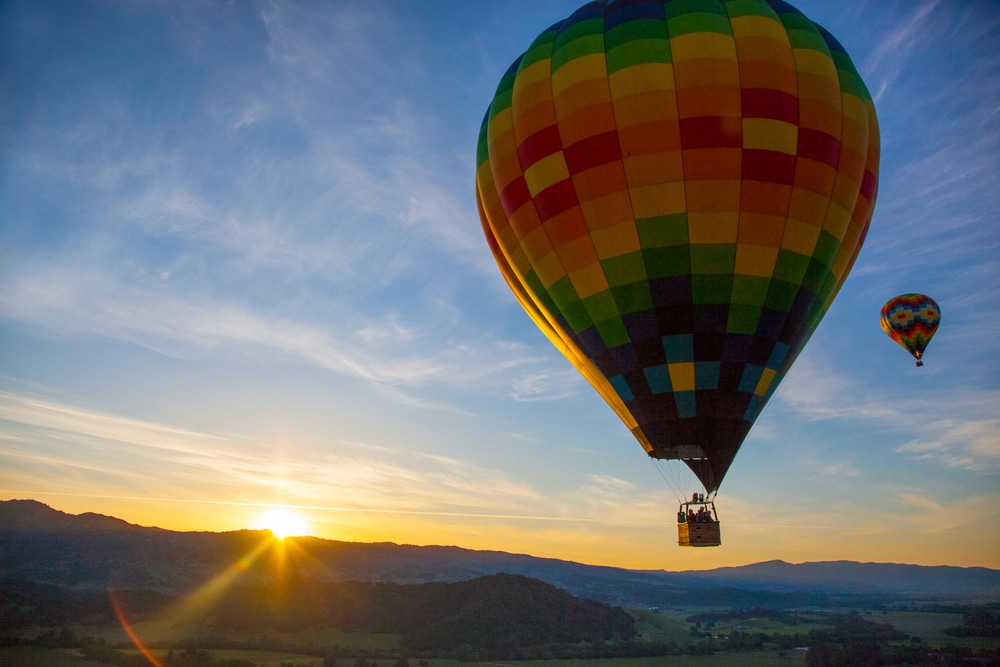 Hot air ballooning is one of the most quintessential and romantic Napa activities to experience in the Valley. There's nothing quite like soaring over the vines at sunrise or sunset on a hot air balloon ride. For a list of the best local companies offering this unique experience, check out our list here.
Exploring California wine country on The Napa Valley Wine Train is one of the more unique experiences. Take in the picturesque landscape of vineyards, Eucalyptus trees, and fields of bright yellow mustard blooms come spring from the windows of an antique train car. Partake in onboard cuisine with local produce and meats paired with gorgeous Napa Valley wines.
Plan a day to wander the charming streets of Downtown Napa Valley for shopping at the luxury boutiques and specialty shops. The Oxbow Public Market is a favorite spot for all things local, from olive oils and salts to cheeses and chocolates. It's a one-stop-shop for visitors and locals alike.
As always, our fantastic concierge service is here to help all of our guests have the best vacation possible. Please allow us to accommodate your needs as best we can during your stay.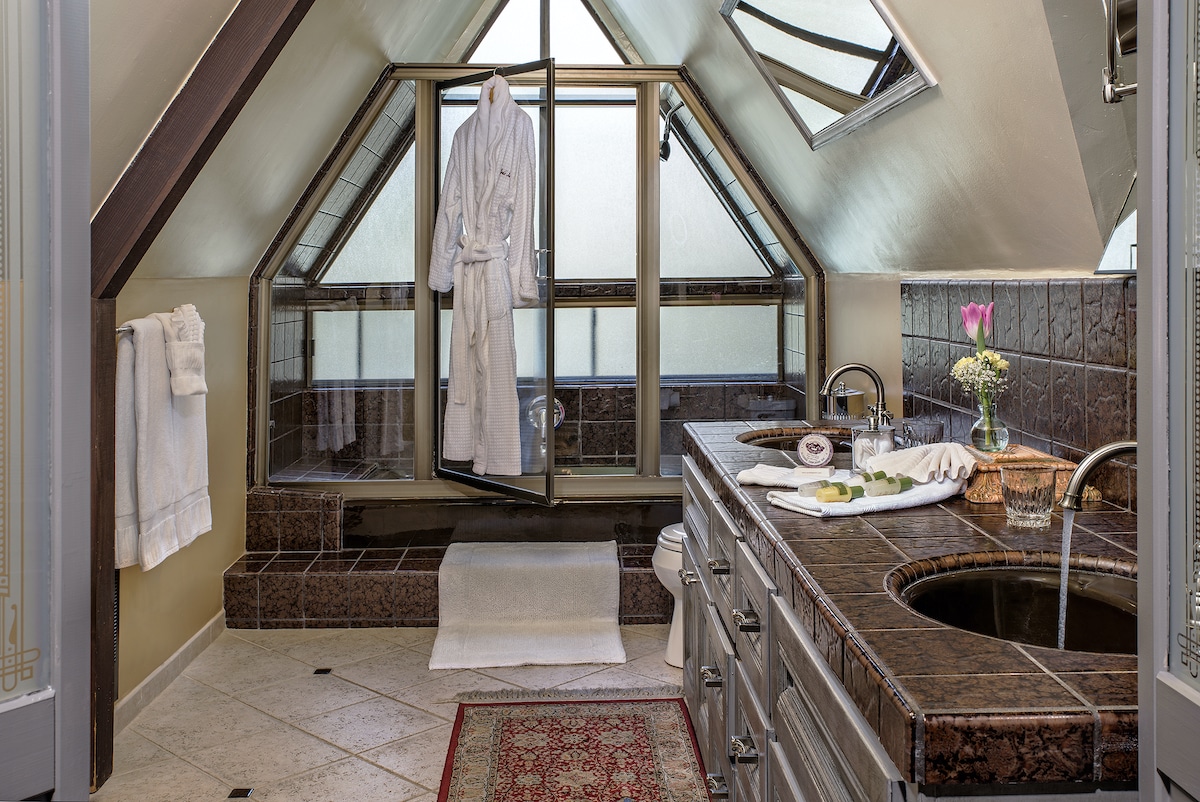 Cozy Spaces for Romance at our Napa Bed and Breakfast
While you'll find that our ten beautiful guest suites are appointed with luxurious amenities, our bathrooms are also a fantastic retreat. Double vanities, premium bath products, and spacious jetted tubs are just the start. One of our most romantic rooms at our Napa Bed and Breakfast is the Candlelight Suite. As the original master bedroom, this spacious suite with cathedral ceilings, fine architectural details, and a beautiful entertainment area is the perfect place to unwind.
The New Year is the perfect time to focus on your relationship and nurturing romance, and our Napa Bed and Breakfast is the ideal space to do just that. Make traveling to the Napa Valley for relaxing days tasting wine, touring the vineyards, and enjoying some amazing meals with the person you love one of your resolutions for 2022. Book your stay today!