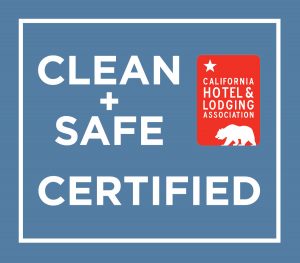 The Candlelight Inn Napa Valley is committed to the highest safety standards by going above and beyond mandated requirements in order to protect the health and welfare of employees, guests, and our community while providing world-class hospitality.
Our Inn has a longstanding commitment and record of cleanliness and safety for our employees and guests.
Some highlights are:
Breakfast will be offered in seatings in a socially distanced dining area.
Guest rooms have been reconfigured to include a dining table and chairs for two
The frequency of cleaning and sanitizing in all public spaces, with an emphasis on frequent contact surfaces, is increased.
EPA approved cleaning and sanitizing protocols are in place to clean guest rooms, with particular attention paid to high touch items.
Rooms are 'sealed' or mechanisms/notices are in place for clean rooms not to be entered between guests.
All bed linens and laundry are washed at a high temperature in accordance to CDC guidelines, and dirty laundry is bagged/contained in the guest room to eliminate excess contact while being transported.
The use of shared food and beverage equipment, including shared coffee/tea service, has been discontinued. Instead individual coffee/tea makers have been added to each room.
Should you have any questions about our cleaning process please get in touch.