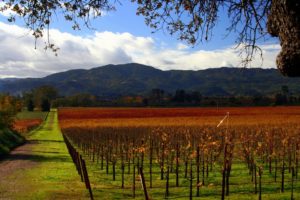 Fall Harvest season in Napa Valley, which typically runs from mid-August through October, is one of the most popular times of year to visit California's premiere wine country destination.  The harvest months in Napa Valley are exciting, as winemakers and vineyard workers race against time to harvest the vineyards at their peak of ripeness.  Excitement is in the air, and fun events like grape stomps, wine blending, and unique tastings are everywhere.  Treat yourself to the sights and sounds of fall in Napa Valley, and book your room at our romantic Bed and Breakfast today.
Fall Harvest Activities
Though the fall harvest season is already well under way this year in Napa, there is still plenty of time to enjoy the sights and sounds of this busy season.  The first grapes for sparkling and white wines have already been picked, but there's much more work to be done before the harvest comes to a close for the year.  "Do-it-yourself" style harvesting has become an increasingly popular activity at vineyards across the valley.  VisitNapaValley.com has put together a comprehensive list of activities still to come in the fall harvest season.  The most popular of these include:
Fall Harvest Celebrations
The fall harvest season is also a time of celebration in Napa Valley.  Harvest parties in Napa Valley are a special blend of live music, dancing, abundant seasonally fresh food, and plenty of delicious, hand-crafted wines.  It's an excellent time to celebrate the many hours of preparation and hard work put in by vineyards across the valley.  Though many wineries have already hosted their harvest party, there are still two upcoming harvest parties worth attending:
As soon as the fall harvest season comes to a close in Napa Valley, it will once again be time for Cabernet Season.  Fall is the time of year when things slow down a bit in Napa Valley. Winemakers get a chance to relax and appreciate their year of hard work, and visitors get to experience the quieter, finer side of Napa Valley.  It's the perfect time to indulge in day-long spa treatments, to meet and enjoy talking with winemakers, to indulge in romance, and to savor gourmet meals.  With less crowds, there's less hurry and more relaxation. There is no better place to enjoy this side of Napa Valley than our Romantic Inn, located just minutes from downtown Napa. Book your room at our romantic Napa Valley Bed and Breakfast today.