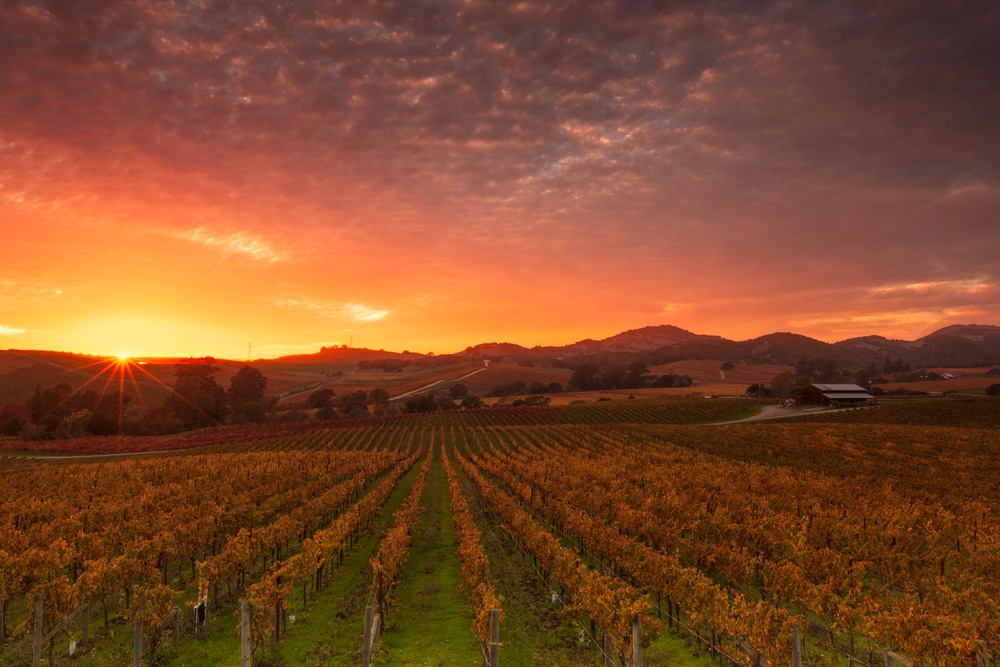 While a getaway to California is a great vacation destination year-round, some argue that the best time to visit Napa Valley is during the autumn months. The heat and crowds of summer have dissipated, and the valley's winemakers are gearing up for the grape harvest. Starting in late August and running through early November, the vineyards and wineries are abuzz with activity as the rush to pick the fruit at its peak ripeness begins.
Fall is also the best time to visit Napa Valley for all of the exciting and fun harvest parties and celebrations at local wineries and tasting rooms. Before you start booking those events, you'll want to get your lodging situated, and our Napa Valley Bed and Breakfast is the ideal place for a romantic getaway or a friend's trip. More importantly, when you stay at the Candlelight Inn, your accommodations become a big part of your vacation instead of just a place to keep your bags and rest at night like a standard hotel room.
You'll love our spacious and unique guest suites, the shared spaces of the Inn, the pristine outdoor pool area surrounded by garden grounds, and the delicious homemade breakfast each morning. We offer concierge services around the clock to attend to our guest's needs, and we are always happy to make reservations or provide recommendations for you during your stay this fall in Napa Valley.
Start planning for fall—the best time to visit the Napa Valley—and get your reservation on the books!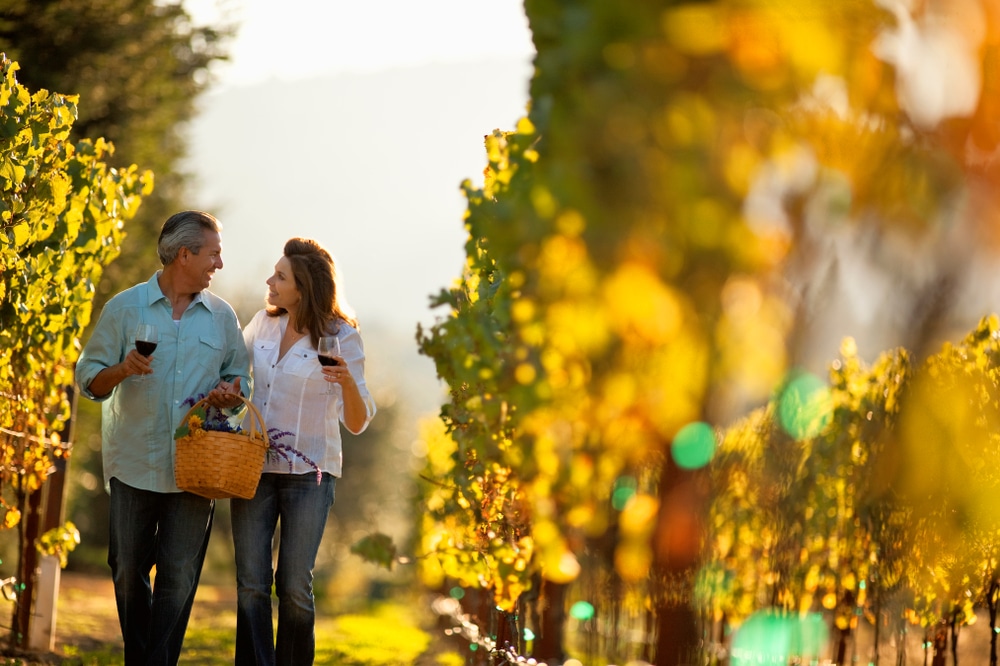 The Best Time to Visit Napa Valley: Autumn Harvest
Harvest season in the Napa Valley is such a memorable and unique experience. A long and involved process goes into creating each vintage of wine, and it requires a strong dedication and teamwork from farmworkers and winemakers year-round. In the fall, the vineyards come to life as the perfectly ripe grapes are picked from the vine and begin the process from farm to bottle. During Autumn, it just feels like there's something in the air, including the lovely scents of grape harvest overtaking the valley.
It's also the best time to visit Napa Valley to experience one-of-a-kind events, elegant dinners, and raucous parties. Whether you're taking your shoes off to participate in stomp or sitting down for a beautifully prepared meal with thoughtful wine pairings, you'll just love the options to fill your time. Many local wineries offer special tours and tastings during fall in napa Valley as well—here's a list of a handful of our favorite Napa wineries to check out!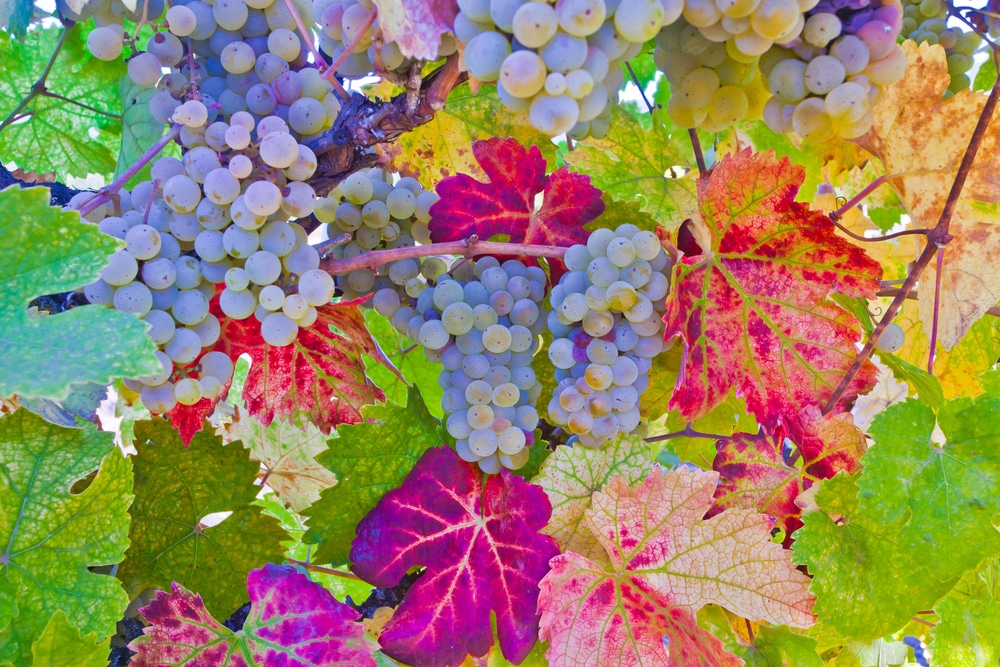 Harvest Events Not to Miss During the Best Time to Visit Napa Valley:
Behind the Cellar Door: A Harvest Experience by Cuvaison Estate Wines
October 7, 2023 | 1:00pm – 7:00pm
Join Cuvaison Estate Wines in Napa Valley as they open the cellar doors for an exclusive guided tasting and harvest experience. Get an up-close look at the winemaking process, get on their crush pad, and see the fruits of the vine transition to wine. Taste limited-release wines straight from the barrel while chatting with winemakers about the 2023 growing season. Dinner will be served with their own collection of most prized wines. 
Crush It by The Estate Yountville
October 7, 2023 | 11:00am
It's a family affair at The Estate Yountville winery on October 7th for their annual grape stomp. Experience the sensory thrill of feeling fruit bursting beneath your feet as grapes are transformed into juice. Kids and adults alike can participate in the stomp before sampling their wines, feasting on barbeque, and taking part in other family-friendly activities the winery has organized. 
Harvest Farmers Market at Clos du Val
October 8, 2023 | 11:00am – 2:00pm
Browse seasonal produce, artisanal goods and live music at Clos du Val winery's farmers market on October 8th. Pick your own vegetables from their own Riverbend Vineyard garden. Chat with growers as they share crop expertise and taste-test recent harvests. Enjoy delicious bites from participating pop ups. Children can participate in art and nature activities or help pick grapes still on the vine. 
Crush Party at V. Sattui Winery
October 13, 2023 | 6:00pm – 9:30pm
Join V. Sattui Winery as they kick off the harvest season with a lively Crush Party.. Help stomp the grapes by foot as the winemaking process gets underway. Enjoy wood-fired pizza and bites from their Tuscan grill and pair it with over 45 wines to choose from. Participate in an informative grape-pressing demonstration. Later, dance under the stars to live music performed on their outdoor stage. With fall foliage decorating the rolling vineyards and a harvest moon rising over the hillsides, this is an event you won't want to miss! Casual attire is suggested.
Kenefick Ranch Harvest Celebration at Indian Springs Calistoga at the Barn
October 21, 2023 | 5:30pm – 8:00pm
Nestled amidst the rolling hills of Napa Valley, Kenefick Ranch is delighted to extend an invitation to a captivating Harvest Celebration on Saturday, October 21, 2023. This elegant soirée promises an evening of exceptional wine, exquisite cuisine, and the warm camaraderie of fellow wine enthusiasts, all within the enchanting ambiance of The Barn at Indian Springs Resort. For reservations, click here.
Harvest Party at Lang & Reed Napa Valley
October 28, 2023 | 1:00pm – 4:00pm
Enjoy a beaitiful afternoon during fall in Napa celebrating the harvest with delicious wine and food in a casual, laid-back atmosphere. Sample all of the winery's newest vintages alongside select wines from past harvests. Pair the libations with tasty bites from La Saison, the perfect accompaniment to complement L&R's diverse portfolio of wines.
Both novice and experienced wine lovers alike are welcome to attend this casual and laid-back tasting event. Relax in the scenic vineyards as you sip wines directly from the source. Chat with winemakers and learn about the processes that went into crafting each vintage.
Howell Mountain Harvest Celebration at The CIA at Copia
October 28, 2023 | 1:00pm – 4:00pm
Held at The Culinary Institute of America's Copia campus, this annual celebration on October 28th from 1 to 4 PM highlights the vineyards perched high on Howell Mountain. Around 30 local growers and winemakers will pour tastes of their bests alongside small bites from The Culinary Institute of America. There's also a silent auction featuring ​​rare wines and winery experiences.
Chimney Rock Winery Annual Harvest Dinner
November 11, 2023 | 6:00pm – 8:30pm
Come celebrate the end of another great harvest season at Chimney Rock Winery! On November 11th, from 6pm to 8:30 pm, enjoy a four-course seasonal meal expertly prepared and paired with their Estate Cabernets. Seating is limited, so reserve your spot today to join in the festivities.
Silverado Resort Annual Thanksgiving Buffet
November 23, 2023 | 11:00am to 4:00pm 
Join friends and family for a bountiful Thanksgiving spread at the Silverado Resort. Their expert chefs will prepare all the traditional favorites alongside unique seasonal dishes. Carved roast turkey, prime rib, decadent side dishes and an impressive dessert bar await. Sip on your favorite wine as you take in views of the vineyard valley from the resort's grand ballroom. After, take a stroll through our gardens or cozy up by the fireplace with another glass of wine.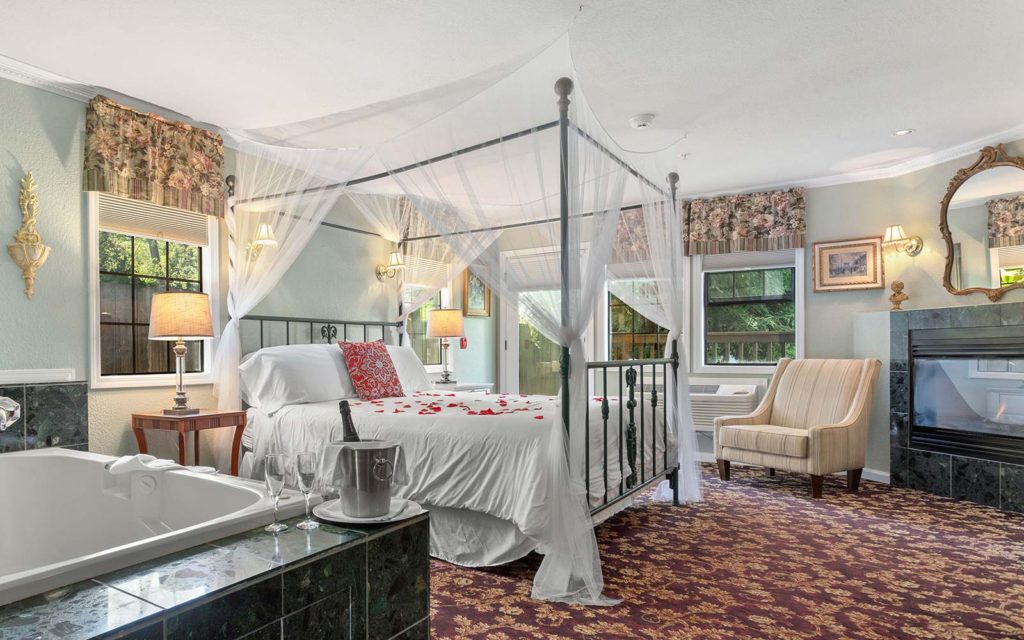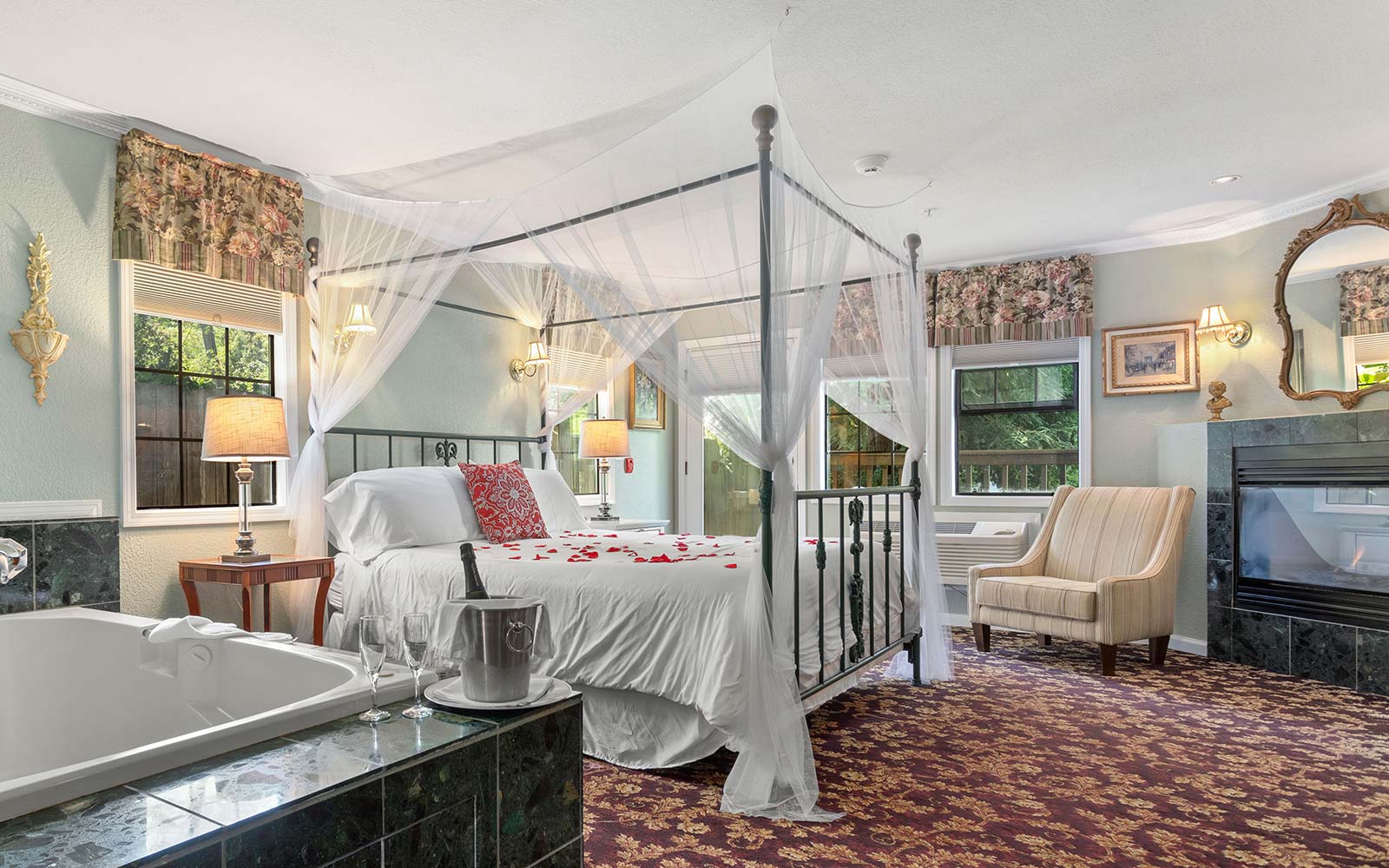 Romantic Lodging for your Napa Valley Getaway
As you decide when the best time to visit Napa Valley is for you, our elegant California Bed and Breakfast is a perfect place to stay all year long. Our romantic guest suites offer things like comfortable four-poster king-size beds, in-room double jetted tubs, cozy gas fireplaces with seating, and outdoor areas to enjoy our garden grounds and the fresh air of the valley. Join us for our complimentary breakfast each morning with brewed coffee, farm-fresh produce, local ingredients, and sweet treats. You'll quickly see why our guests return time and again.
Discover the best time to visit Napa Valley and reserve your room today!