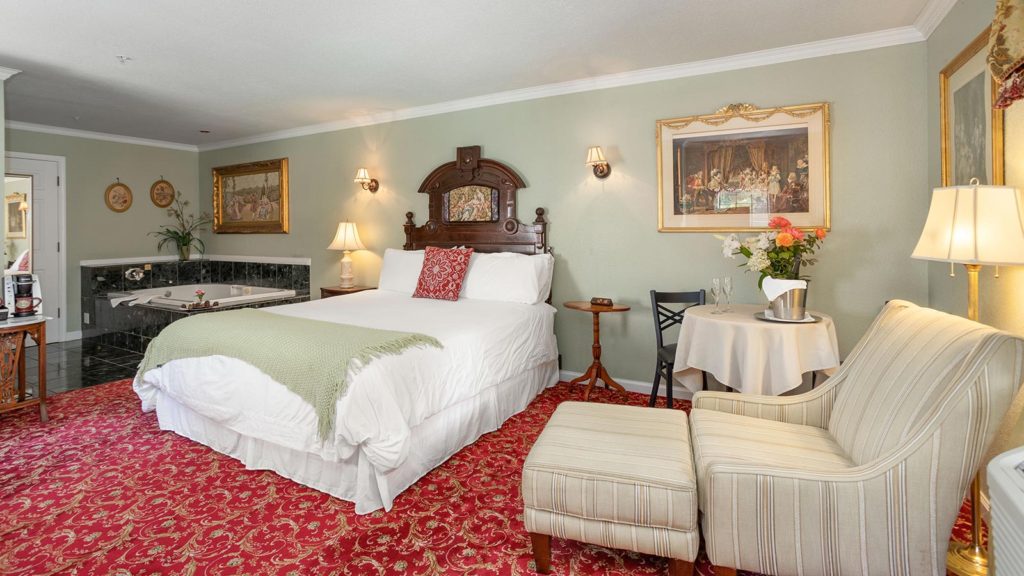 For those looking for a special place for your next romantic getaway, our elegant Napa Bed and Breakfast is one of the best places to stay in wine country. Unlike an impersonal hotel stay, our beautiful Inn treats you to a hosted stay with a 24/7 concierge, breakfast service each morning, and artfully appointed guest suites with world-class amenities. Our property is set back on a quiet street but in the ideal location for exploring the shops, tasting rooms, and restaurants in downtown Napa, as well as the surrounding 100-plus vineyards and award-winning California wineries.
Upon check-in at our Napa Bed and Breakfast, you'll immediately feel our warm and welcoming service. Feel free to head straight to your luxurious guest suite or stroll our stunning one-acre garden property with a glass of California Cabernet in hand. The seasonal backyard pool and patio space is an oasis with a majestic vine-covered pergola set up with comfortable lounge chairs with the perfect view of the yard game area. As an adults-only Inn, you'll enjoy the quiet and calm atmosphere that permeates our curated space—the ideal recipe for romance and relaxation.
Head over to our availability calendar today and reserve your room today!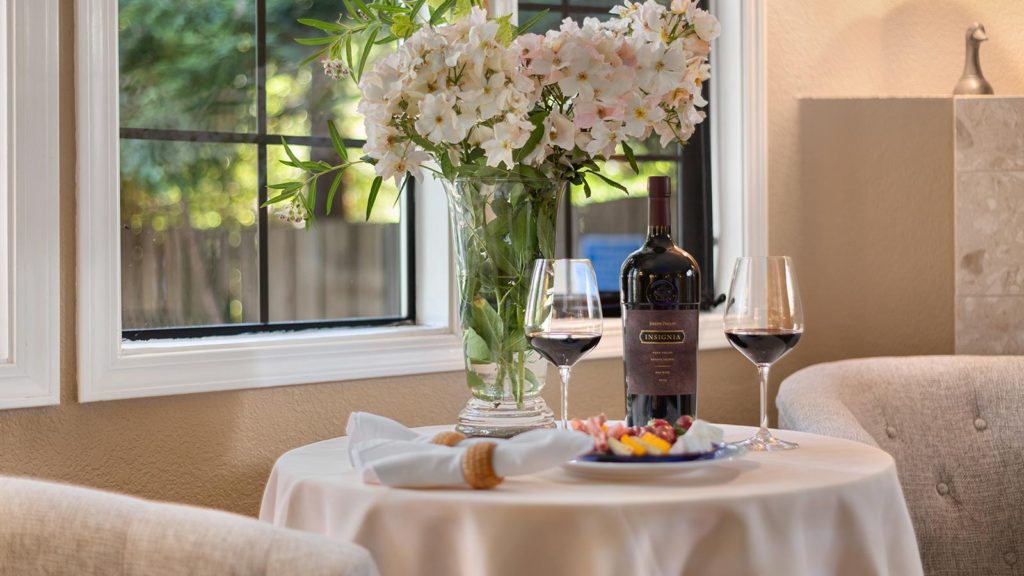 Make our Napa Bed and Breakfast Your Romantic Getaway
Now that you've booked your room at our Napa Bed and Breakfast, you can start planning your itinerary! You'll spend your days relaxing, tasting award-winning wines, shopping, and dining in one of the most beautiful places in the world. Here are the most romantic things to do in Napa during your stay: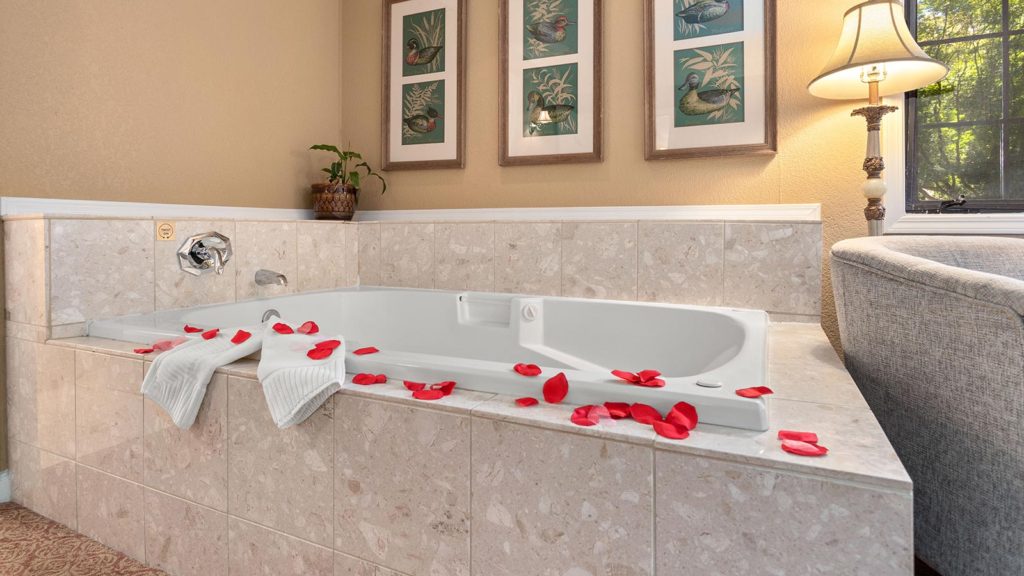 Book a Special Add-On Package to Your Room:
Our long list of special add-on packages can seriously up the romance during your stay at our Napa Bed and Breakfast. For these lovely additions like in-room couple's massage, call ahead before your visit, and our helpful concierge will get you set up. Our most popular add-on package is the Candlelight Junction Package which combines a gourmet lunch aboard the Napa Valley Wine Train and a winery tour with Platypus Tours. It's the perfect way to spend a day out tasting wine with your partner, and we'll be ready to welcome you back to our Napa Bed and Breakfast for a cozy evening by the fire or soaking in a bubble bath.
One of the Most Elegant Places to Stay in Napa Valley
An extra perk of your stay at our Napa Bed and Breakfast is the morning meal—included with the price of your room for every guest. Each morning of your stay, join us in the first-floor dining space, overlooking the pool and gardens, for a gourmet multi-course breakfast made from scratch. Served from 8:30 to 9:30 am Monday through Friday, and 8:30 to 10:00 am on the weekends. Our menu changes daily with classic dishes prepared with local ingredients and always paired with freshly squeezed juice and hot coffee. It's the best way to start your day before wine tasting in Napa Valley.
Join us at our Napa B&B this fall and book your next stay today!